Soulmate not necessarily is life mate. What do you feel? Express your take... #Soulmate! This post is part of
Indispire 50
I was very confused with the term 'soulmate'. I had thought that a soulmate will be one who'll accompany us after death too -
with whom we'll waltz together above the clouds hand in hand
, and not just when alive. But does that happen? Who are we kidding, eh? Anyways, for answers I googled it up. The first link that I came upon was by wiki, which said -
A soulmate is a person with whom one has a feeling of deep or natural affinity. This may involve similarity, love, romance, friendship, intimacy, sexuality, sexual activity, spirituality, or compatibility and trust.
The story by Plato, that followed, made very little sense though. Infact, it had me rofling - do go to wiki and read it ;-)
So, what is my opinion on it? I think human's ego/pride/arrogance/confidence/
over-confidence has reached such a level that they start believing every non-existent things as real too
( by the way ghosts are real )
.
Let me ask you a question. Do dogs have soulmate? Do birds have soulmate? Does a fish have soulmate? Does a cockroach have a soulmate? Does a tree have soulmate? Does an ant have a soulmate? All are living beings aren't they. Sure, they might not have same intelligence or capabilities like us, but the creator has gifted them soul too ~ else, they would'nt be alive. So, if they have soul, they should have their soulmates too, right? But I'm sure, you are already shaking your heads, thinking, no these creatures don't or can't have soulmate; only humans do or can. And that's exactly the narcissist ego/pride I was talking about. Just because we have certain advantages over other species, we have the audacity to think everything is made with us in focus. We forget, we have so many disadvantages too - eg. Can we fly? Can we survive underneath seas without protective gear and so on. So, what makes us special that we have the cheek to think we should/may/must have soulmates? Who invented this ridiculous term anyway? Plato, as per his absurd story on wiki?
Since humanity is existing, billions have come on this earth, lived and perished. Is it possible for all to have soulmates. Is it even logical? If being compatible or comfortable with someone for long period is called soulmate, I'm still okay with it. But I don't agree to the term, as it is more a give and take. If one of them stops or fails or dies, there goes the whole 'soulmate thingy' out of the window. So, for God's sake, lets not over-dramatize things. And if the topic is anything to go by - which says "Soulmate not necessarily is life mate", then yeah, I agree wholeheartedly. You see, mosquitoes are my soulmates, they never let go of me; they love me so much as though they have janam janam ka rishta with me. They drink my blood and I kill them in return. We are perfect soulmates :|
Disclaimers : This post is
not
to be taken seriously. No Soulmates were injured during writing of this post.
❤❀❤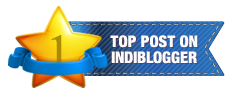 Stay Connected & Follow my Updates on the blog's GFC | GOOGLE+ | FACEBOOK | TWITTER | BLOGLOVIN | NETWORKEDBLOGS
---