¸¸.•*¨*•♫♪¸¸.•*¨*•♫♪¸¸
"NDDDDDDDDDDDDDDDD!!!! Where have you been? I've been trying to call you whole day. Grrr...you always disappear when I need you most." Well, that was my friend, Priya, shrieking through the air-waves; when I answered her call after I reached home, back from a wonderful visit to Colaba, where I had been ( on 23rd Aug ) to review the newly opened mobile-phone store Univercell Sync, with couple of other bloggers. Oh! What a day it was. After what seems like centuries, I was visiting that side of town and totally enjoyed every moment of it lapping up the classy heritage victorian architecture of that area.

"ND, will you tell me?" My friend was still waiting for an answer,
"Oh, Priya! I'm so sorry, I was out whole day. Tell me why you called? Everything okay?"
"Noooooooooo, everything is not okay! I lost my mobile, and was calling you whole day from my neighbour's phone. You know how embarrassing it can be, using someone else's phone. I had stored so many songs, pictures, downloaded so many Apps, games in my mobile - all gone now!" Priya was clearly upset. "I need your help in buying a new phone. You know how dumb I am, in all things technical."

What a timing it was, to lose a mobile, I thought. I felt sorry for her loss, but a little naughty thought that rose in my mind, wished, she had lost it earlier. Then, I could have perhaps tagged her along and she could've seen for herself the 'brand new' ones in the store; maybe tried and a bought one too. Phew....Life and its twists n turns.

"Again you're lost, NDDDDDDDDDDDDD!!!" she shrieked again.
"Okay ..okay, don't make me deaf now. I can hear you. I told you I was out. And you missed a great opportunity, I guess. It'd have helped you buy a new mobile too."
"Why, where did you go? Tell me about it," she was getting curious now.
"Well, there's a mobile-phone retail chain, 'Univercell Sync'. Started originally in Chennai, 18 years ago, they have over 470+ stores around major cities in India ~ with 9 in Bombay alone ~ all in major Malls and popular 'happening' places eg. Colaba Causeway. They are in this business since the mobile-phones started in India, and have seen its evolution from downright-expensive ones in the past with very limited features to the modern day gadgets equipped with convergent technology. I was there in their newly launched Colaba store ( next to Regal Cinema ), for a reviewing activity for my blog. What a store it is, man! Unique and mind-blowing for sure. It is one of a kind ONE-STOP-SHOP for all things 'mobile'. I'm sure, you would've loved it."
"Now you are telling me, hmmmph!" Priya sounded as though she was sulking. "By the way, what so unique about a mobile shop, aren't they all the same?"
"No, Priya! This one was surely different; the whole concept of the store........," I continued to tell her that day's story....




Colaba is in opposite end of the town, and quite far from where I live. So, I had to start early. That means, wake up early too; as our event was scheduled at 12-3PM. Once I reached VT, I looked around for a cab to Regal. When a cab walla agreed to take me there, I was surprised to see 3-4 other passengers getting inside the cab too. Then I realized, I had mistakenly called a shared-taxi. Anyways, I thought it was better to go as it was, than change ~ because it was already 12:20 then. After a short ride, I reached the venue, and was greeted by Vineet of IB at the entrance. Taking in the interiors, my first comment was, "It doesn't look like a shop. It looks more like an exhibition ~ all spread out!" There was no counters I noticed, where sales-men usually stands stiffly behind, demonstrating products; no cashier counter too - where a fat 'Seth' usually sits, counting money in a corner ( as it happens in normal shops ). Everything looked neat, sleek, modern, spacious and very appealing. I was instantly impressed with the whole design.

On top, it read - 'Welcome to a whole new tech-sperience!' I wondered what more 'new' could a mobile-phone shop offer, than what we have already seen in a zillion stores around Bombay. It read further ~ "Newest Mobile Phones, Interactive Counters, Finest Accessories, Latest Tech Trends, Touch, Interactive Experience, Live, Personalize, Own." Whoah - that's too many, I guess, and the only way to find out the meaning behind each of these boldly written 'words' was ~ by exploring around the store myself. As though hearing my thoughts, Soumya Menon ( Vice President - Brand Strategy ) appeared right in front of me, and took us around the store, explaining patiently its many products, features, services etc and of course the concept behind the store ( 3 different dedicated interactive zones ) which I had already observed on entering.


¸¸.•*¨*•♫♪¸¸.•*¨*•♫♪¸¸
Ready, well-informed, patient, attentive and friendly staff; I noticed. Eager to help and assist in any queries one might have regarding products or services. The atmosphere of the store is kept quite informal, so that it does not intimidate customers. They can freely move about and are guided by the blue uniform-wearing store staff, as they try out the devices. Yes, you heard it right - unlike other stores, in Univercell Sync, one can actually touch & try out the various devices and their features before deciding to buy!A huge plus+ point.



Zone.1..¸¸.•*¨*•♫♪¸¸.•*¨*•♫♪¸¸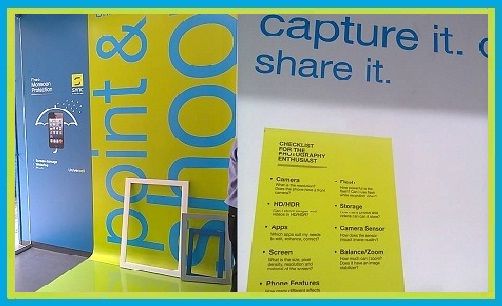 As mentioned in bold already, that the store is highly 'interactive' in nature ~ the first glimpse I got of it was ~ at the 'Point & Shoot' corner. A special corner it is, with props like photo-frames of various sizes, where one can pose ( individually or in groups ), click pictures and compare the quality of photos instantly. It is fun and highly engaging. Next to it, is the 'photography' zone, where best of camera-phones ( mix of all major brands ) are at display ~ the ones that clicks the best pictures ~ along with their important accessories like memory-cards, pen-drives, power bank, covers, cases etc to give that enriching 'click' experience. It also has a detailed informative 'check-list' for photography enthusiasts to go through. Capture it, create it, share it ~ ooh, yes baby!



Zone.2..¸¸.•*¨*•♫♪¸¸.•*¨*•♫♪¸¸



Being a hard-core music lover, the music corner piqued my interest. I was impressed that one could actually try out various phone-speakers ( portable or static ), head-phones, Ipods and other accessories ( various, for all devices with different price ranges ) to test the music quality 'live'. Many of these are wire-less and have blue-tooth too, hence, way easy to just plug n play. There is a special 'check-list' here too, with detailed information for music-maniacs. Play it, live it, own it ~ oh, yes! Definitely!



Zone.3..¸¸.•*¨*•♫♪¸¸.•*¨*•♫♪¸¸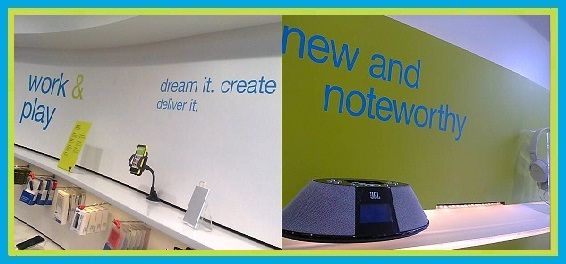 Work & play ~ with its own 'check-list' too, based on 'productivity', this zone is for the Big ones ~ yes, big display screens but working as phone/ tablet too ( phablets )! Then there are the Tablets too and their accessories section. In today's times, Tablets have nearly take over laptops big-time, and we spend most of our 'online times' with our tablets. Unlike normal phones, these have broader screens and we work on them too, serious stuff. Besides that, there are also a whole lot of games and apps that we download and use on our tablets. So, here one can download anything 'new' that's arrived in the market ( game or app ) and check out for themselves, before purchasing. That's the best thing about Univercell sync. Unlike other shops, where once you test a product you are under compulsion to buy it; here, they have products displayed specially for demonstration purpose where one can test/try out to their satisfaction and only then decide to buy ( or not ) without any compulsion. Dream it, create it, deliver it ~ right on it baby!



¸¸.•*¨*•♫♪¸¸.•*¨*•♫♪¸¸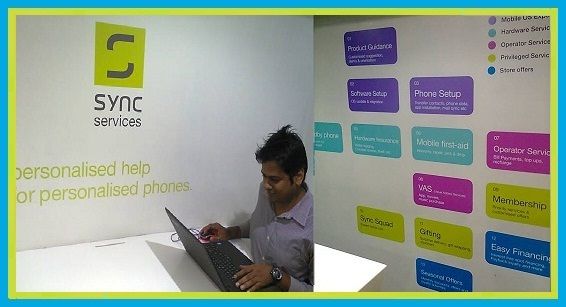 There's a special cozy area behind the store too! Well, this is where the phone or tablet you've purchased, is given special attention to ( with installation and other help ), and also if you have certain problems ~ with extra help, guidance and personalized service.
Along with the usual product warranty, they also have a yearly paid maintenance or protection service - Total Care, ( similar to insurance ) wherein you pay a yearly amount ( around 700/- or more depending on price of the device you buy ) and in any situation of your phone getting damaged by accident, scratched, water-clogged, or stolen etc, you get instant help from them ( with pick-up & drop facility ). There are combos to choose from like Sync Squad ( for personalized help in syncing various devices together ), Mobile Health etc. So, once you have problems with your device, you know whom to call/approach and get specialized help, rather than get lost in the confusion of hunting mobile-repair shops. And during the time your phone is getting fixed, they might even give you a spare phone to use ~ isn't that very thoughtful of them? ( you can also purchase this service for your normal mobile even if you've not bought anything from the store ) There's also a wall in this section with colourful blocks, mentioning the various services ( 13+ ) that the store provides ~ for more clarity. There's another wall that caught my attention which was full of cute emoticons ~ a reminder really, of our addiction to mobiles & internet :-)

There is a kid's zone, I noticed ( with a gizmo-graffiti-tree-type wallpaper ), near this special area ~ wherein even kids can have their fun getting aquainted with the devices. And no, they won't get punished if they accidently drop or break. I think its very thoughtful of the store to provide such a place, as we all know how curious kids are of gadgets. Here, there is a seating arrangement too ~ just to relax a bit while checking the gadgets.



¸¸.•*¨*•♫♪¸¸.•*¨*•♫♪¸¸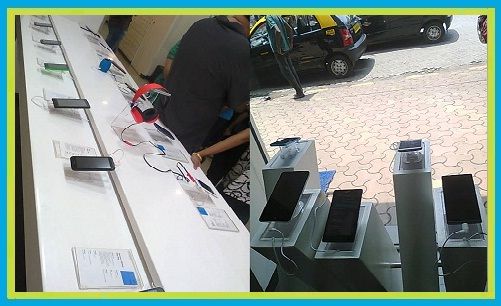 Univercell

Sync

, stocks all kinds of mobile-phones; of all brands, of all shapes & sizes, and of all price-ranges. So, if one has plans to buy a new phone, this is the best place to check out. Along with the different zones ( mentioned already ), to test the various features eg. pictures, music, games, apps etc; there are also special sections in the store for the 'best-sellers' ~ i.e primarily the popular ones. This section is visible from outside too; to *drool* away, then the 'budget-phones' ( of all major brands ) in the middle of the show-room; and the 'new-noteworthy' ~ i.e new arrivals, right at the entrance. Thus, such interesting 'features & utility driven' ( and not merely brand driven ) categorization, gives a clear picture as to what one is searching for, without getting too confused.

For first time in my life, I was so impressed with a gadget-shop; with all the thought and meticulous planning that went behind executing the 'unique concept' into a reality ( was it 2 years Soumya said, that went into preparing the blueprint of the store~ ). After an overwhelming time at the store, we bade our 'byes' ~ but here too, very thoughtfully, the store handed us a refreshing Cafe Coffee Day lunch bag ~ how sweet of them :-)



¸¸.•*¨*•♫♪¸¸.•*¨*•♫♪¸¸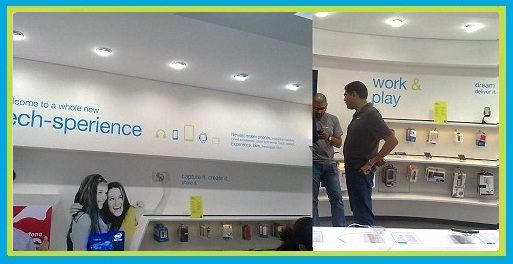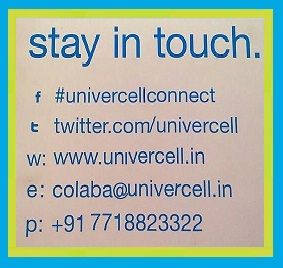 A Quick Video Glimpse of the Univercell Sync Colaba Store ~ by ND


"So, when are you going next, all these sounds so exciting!" Priya asked me, after I finished describing my store-experience in details. I could sense the 'awe' in her voice.
"Whenever you're ready, Priya," I replied, "I'm sure, you'll simply love this whole new experience of buying a 'new' phone ~ something you've never experienced in your life so far; in other retail shops or even the online ones. And the best thing is, they have several branches around Bombay. So, if Colaba sounds far; you can go to a store near you too. But travelling this once colonial-style side of town has its own charms."
We then decided on the spot, to make a visit to UniverCell Sync Colaba store very soon...( Pssstt...currently due to the new 'launch', there's discounts being offered on the products for limited time; wouldn't wanna miss that now, do we ;-)

¸¸.•*¨*•♫♪¸¸.•*¨*•♫♪¸¸
Pin It Now!
❤❀❤

( Images - ©Mine )
---