What do you think happens after one dies? Bring out the best creative imagination to explain. #DeathisBeginning! This post is part of
Indispire 48
Well, this topic has always fascinated me. But why does it say bring out the best 'creative imagination'? First of all, there's nothing creative or imaginative about 'death'. It is perhaps the only truth in our lives, that awaits, just around the corner to pounce at us. It is everywhere, lurking. Only, we are being careful 24x7 to avoid it. We take extreme measures, so that it doesn't reach us. But for how long? Even the richest of rich dies one day. Some years ago, just a mosquito bite killed the famed film director Yash Chopra. Death can come in many other ways - lightnings, earthquakes, accidents, murder, diseases, old-age etc; some man-made reasons and some natural. But comes, it does. In our material pursuits of owning every luxury possible and inflating our massive egos to feel superior, we forget this simple fact - that everything is so
temporary
.
So, what happens after we die? True, nobody knows for sure and maybe that's why it was suggested to write our creative imagination. Well, what I'm going to write next is not creative imagination at all. Its factual as far as I understand. You may believe or not, but for me its stark truth. I'll start off with certain true incidents that I know of, and you can decide for yourself :-)
~~~o~~~
1. My great-grandmother was very ill from the age of 80-84. She was paralyzed and could not get up from bed. Everyone thought her end was near, as she was very frail and weak. And one day she stopped breathing. The doctors checked her pulse and declared her as dead. Naturally, everyone mourned and got ready for her last burial rites. After half an hour or so, her 'arthi' was prepared and people poured in to pay their last respects. And then all of a sudden, my great-grandmother who was paralyzed and could not move an inch for the last few years - got up in her bed and sat. She looked around and asked, what the commotion was all about. Everyone looked stunned, at her. They could not believe their eyes. They told her, that the doctors had said she was dead and her 'arthi' was prepared for burial.
My great-grandmother then narrated an incredible story of what she went through, when everyone had assumed her to be dead already. She said, she was whisked away by someone through a long dark tunnel, and crossed a milky white river of sorts. Someone was waiting on the other side, who then told that she wasn't the correct person they brought and to send her back immediately. And then, my great-grandmother opened her eyes. What she experienced was during that half hour-40minutes phase, when people thought her as dead. That day itself, another neighbour passed away. However, the most stunning thing from this whole episode was ~ my grandmother got up from bed, walked about completely hale and hearty. Her paralysis was completely cured, and she went on to live till about 104 years old, without a single illness/disease. I was fortunate to see her when she was alive, and her story still stuns me. I saw her walking about till such old age, and wonder how she was cured so miraculously. Well, there's certainly some unexplained mystery to it connected to that 'death'.

2. If the previous story was surprising, the next would be simply baffling. This involves my neighbour cum friend, with whom I used to go to school together. We were close, so she trusted me to tell her experience. I never disclose her name while telling her story, because I respect her privacy. But the story is too incredible and needs to be told. It so happens that, when my friend was hardly 2-3 years old ( the time when children begin to talk ), everyday she used to cry that she wanted to go home. Her parents used to console her by saying, she was in her own home only. But she used to wail continuously that it wasn't her home, that her real home was somewhere else. Two/three more years passed, but this continued to happen. She began demanding to be taken home asap. My friend's parents were too confused at what was going on. Why the child spoke like that. After all, she was their own baby and not some adopted kid. So, one day bit frustrated, they asked her to tell where her home was, and that they'll take her there. To their surprise, the girl then blurted out an address, which was not very far from their house ( some 2-3 kms away).

The parents then decided to go and investigate the address, and perhaps find a solution to the matter. They took the child along too. When they reached the gates of the house, my friend got excited and tried to run inside the house. The woman of the house who appeared, she immediately called as mummy. The woman of course, didn't realize what was happening. It was then, my friend's parents told her how their child was stubbornly asking them to take her to her 'real' home for past couple of years, and how she had blurted this particular address - she was still too young to know any address as such. To their amazement, the woman disclosed then that she had a teenage daughter who died exactly around the same time ( few hours difference ), when my friend was born. The daughter behaved as though she was in her own home, in that other woman's place. Rebirth or re-incarnation! They were totally intrigued and the girl still calls that woman her 2nd mother, although, they don't want any public attention to this experience of theirs.
So, what exactly happens after we die? After knowing of such incidents happening to some people
( who've been close to us )
, one thing is for sure
to me atleast
, that death is not the end. It is just the beginning....and maybe there are different paths
too
that one might take after death - heaven, hell, re-birth etc. Only thing is ~ are we in control of it or someone else?
❤❀❤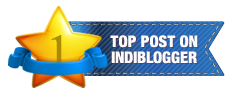 Stay Connected & Follow my Updates on the blog's GFC | GOOGLE+ | FACEBOOK | TWITTER | BLOGLOVIN | NETWORKEDBLOGS
---