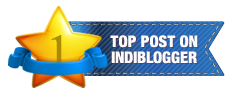 Lee Plaza Hotel, Detroit, photo by Bonnie Beechler

The paints have gotten peeled off,
The walls, weary and worn off,
The furniture, all tattered and dirty,
Floors, with heaps of dust on top.

These are sights that we see,
But there's another whole story,
About the residents that live here,
For them, it's just a day, another.

Animated voices fill the house,
Excitement, along with daily routine,
While the B/W television blares
match's scores latest,
From kitchen, to lower volume,
someone screams loudest.

The residents, they've newly moved in,
In mid-town, a posh house, urban,
The richest folks in area, they are,
Cultivating many envious eyes, all over.

Many were waiting
Only for one opportunity;
To wipe them off, and,
Lay hands on the property.

Bullets drove into the walls one day,
Blood oozed out uncontrolled, that 1st May,
Lifeless slain, laid the residents,
Their spirits still dwell here, nevertheless.
This post is for Magpie Tales 210
Pin It Now!
Copyright 2014 © Nandini Deka
---