So, when Cadbury announced their new blogging contest #ConditionSeriousHai on my favourite bloggers community @Indiblogger - Here, all of us ( read - me, ME! ) rushed to the contest page to see what the prizes were. Yes, we saw those big prizes and *drooled* a moment, but still kept on searching everywhere. I even tried to turn my laptop upside down in case I missed something. I went back and forth the page several times. Yes, something was missing alright. It wasn't even funny. I went back to the forum thread and blurted it all aloud atlast! This matter needed serious attention, else sabka condition serious ho jayega! Everyone else too slowly joined in our 'dharna' ( read thread )! Bhai, condition jo serious hai!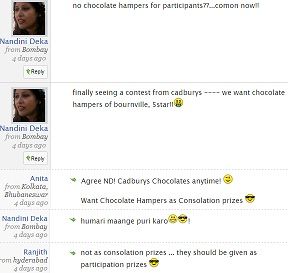 Now, since neither Cadbury's nor Indiblogger responded to our demands, we wanna tell them - #ConditionSeriousHai contest rakhtey ho aur bloggers ki condition serious kar dete ho? By not giving them chocolate hampers! Ghor Anyai hai yeh - injustice, Baap! Chocolate Hampers to banta hai, boss! Organizers samjha karo - condition serious hai ;-)




¸¸.•*¨*•♫♪¸¸.•*¨*•♫♪¸¸

¸¸.•*¨*•♫♪¸¸.•*¨*•♫♪¸¸
Pin It Now!
❤❀❤

This post is part of
#ConditionSeriousHai
contest in association with
Indiblogger.in
| Liked it? Then please
'VOTE'
for it >>
HERE
|
( All Sketched Images are ©Mine. Rights reserved )
Seriousness is a very serious disease. From that annoying aunty, who's more concerned about your life than your parents are, to your boss/professor, who's more punctual than time, we're all surrounded by people jinki #ConditionSeriousHai. Some seriousness victims take things seriously and the rest are genuinely serious. Because seriousness, well, it's contagious. But don't worry! Luckily, there's a cure - 5Star Andar, Seriousness Bahar!
---