..¸¸.•*¨*•♫♪¸¸.•*¨*•♫♪¸¸


Ever since I've seen the television ( black and white being the first ), advertisements have been an integral part of the medium and our lives. Even Radio hasn't escaped the commercials onslaught. But today, we'll only discuss the visual medium.
In the beginning, I didn't use to understand why these annoying things popped up at regular intervals, disturbing the sequence of my favourite show. Yes, I used to consider them really annoying. They were like 'buy this, ting-tong' 'buy that, ting-tong', that would leave me fuming. Later of course I realized, that due to advertisements we get to know what products are there in the market, new launches etc. That, so much information packed in those 30 odd secs, is really the work of some really creative and genius minds who creates those, and not some nearby market or bhaji-walas. ( Yes, for a long time ignorant me used to think our neighbourhood grocery-store owners must have collaborated together and made those ads, just to push their products down our throats ).

And the annoying factor was still there too. Because in those days, advts were poorly made. Mostly stereotypical, there was no innovation in them, though, a couple of jingles have stayed on in our minds till this day. After all, who can forget those Nirma ladies in white and the advt song; who can forget Kapil Dev saying that Boost was the secret of his energy; who can forget that 'Jab mei chota bacha tha, badi shararat karta tha, meri chori pakdi jaati ~ tab roshni tha Bajaj' and of course, the Hamara Bajaj scooter advt and many more such. Two songs I still humm often are the earliest Lifebuoy and Liril jingles. I must say, remembering them, I think there was a certain kind of cute innocence in those advs after all. Of course, as world zoomed towards new technology and advancements, the quality of advts changed too big-time ~ and for the better. As India opened its markets to the world, there has been a splurge of advts catering to stuff we had never seen prior, but now have gotten accustomed to so much - all thanks to those advts. Advertisements changed and how. Some were really hilarious, some interesting, some thought provoking, while some outright disgusting and few racists too. I must admit, I didn't get as much annoyed as I used to earlier anymore seeing them, because most of these advts were truly enjoyable or gave food-for-thought.

Then, there was this era when every single advt had either Big.B or Sachin Tendulkar in them. Though they are world famous people, to see them in practically every advts were really the WTF moments for me. But gladly, other celebrities gave them a tough fight ( competition wise and not physical, duh! ) and started appearing in various ads too. The leveling game I say. It was quite interesting to see various brands starting to thematize their ads as per various important occasions, festivals or big matches like ICC World Cup or IPL, making the content more relevant and thus connecting people more. One such being Mauka Mauka and the ever famous Kuch Khaas hai by Cadbury!




In recent times, brands have gotten more and more customer oriented. Since, the internet came into our lives in such a massive way brands have been trying newer strategies to get the customers involved too. From contests to events, brands these days try engaging with customers via the social media. Like we see Pepsi now coming up with the Crash The PEPSI IPL Campaign, inviting people to make ads themselves, and the winner will be declared as the official ad of Pepsi, this IPL. What an amazing brand-customer engaging concept it is! No wonder, it has caught on all our imaginations. I tried watching few of the ads ( damn, they are good! ), but what happened to me recently was no different than a good-meaty advt material itself.

As already mentioned, brands nowadays seeks to engage more with the common people. They continuously seek bloggers, as they are the closest and trusted medium to people, with them being the customers too. So, like any other day, one late evening, I browsed through lots of event invite mails that I receive from various brand PRs. I skip most of them, but this one simply caught my eye. Read the conversation that happened.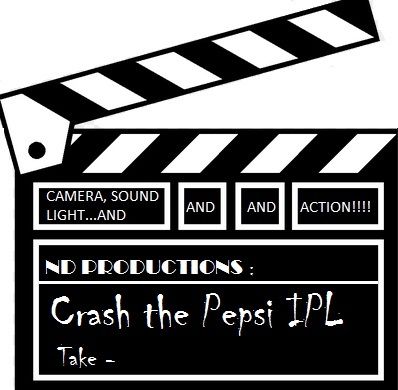 SCENE -1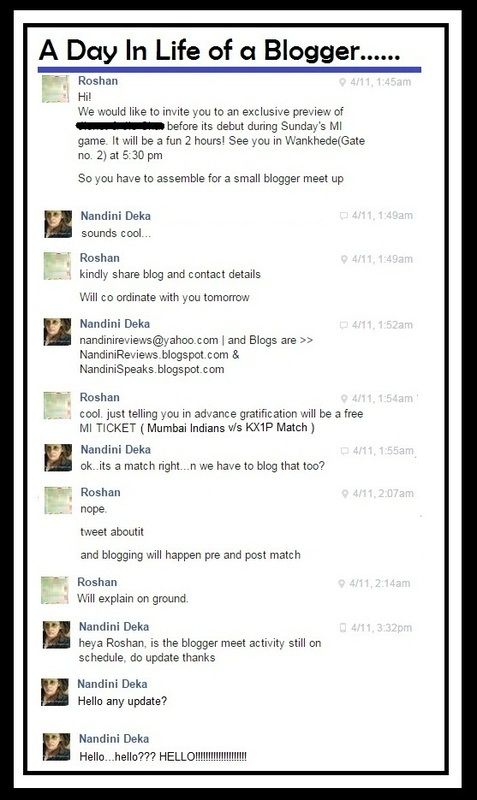 Mumbai India Match Tickets that too premium, are you effing kidding me? Well, read the convo again. It was unbelievable. But you can see, towards the end - I was only left yelling "Hello Hello". Not the one to give up easily, I stalked his profile and found out his number. Naturally, I dialled. What were you thinking, duh!



SCENE -2 ~ the persistence...

ME : Ring Ring...
Roshan picks phone and says : "Who's this?"
ME : Hey, Roshan! We had just talked over facebook chat, about the meet.
Roshan : Err..err.. Can't hear you. Will talk later. Slam.
Me : Ring Ring....again
Operator : The number you are dialing is currently busy. Please dial after some time.

TIME?? Well...I didn't have time. It was the match day the next day and the damn guy was standing me up, after nearly finalizing the deal. How could he... like dangle a carrot in front and then do the vanishing act. I guessed, the event must have been called off or there was some issue, so he was hesitant to give a proper explanation. In any case, the IPL bug had bitten me big-time by then, and I knew I wouldn't get the cure of it, till I watched through the game, with or without the ticket. I thought, maybe if I reached the stadium, I could call him again or ask anyone if the blogger's meet was happening in the premises. Someone atleast would surely know - the guards maybe, right? So, seeing a tiny silver-horizon, in the gloominess of it all, I made a dash for Wankhede Stadium.



SCENE -3 ~ the never-ending wait...of the never-happening meet...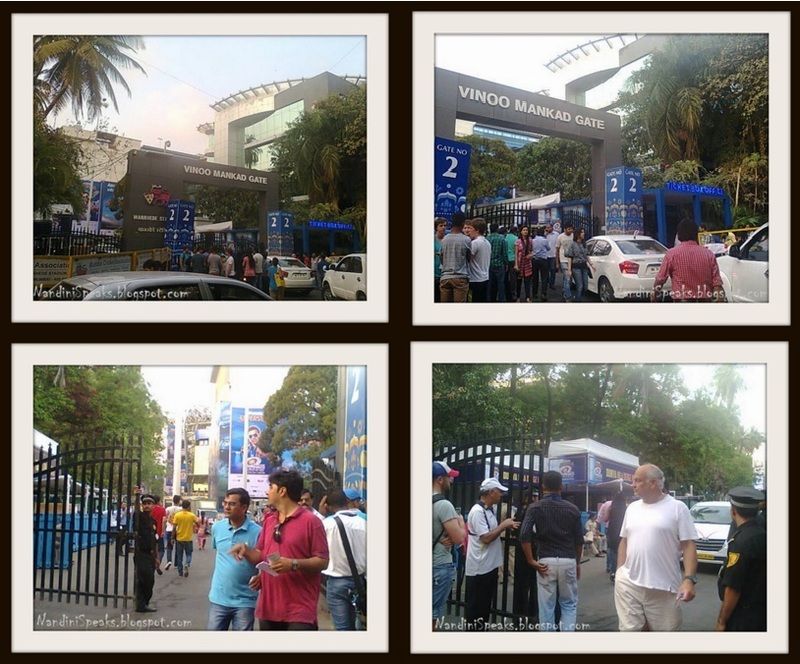 It was already crowded, and it was not the match-day yet. Imagine then, what would happen on the D-Day. I began asking anyone and everyone, if there was a blogger's meet. Nobody seemed to know. NOBODY!!! Not the guards, not the men in the ticket counter, not the chaps wearing staff official-badges. I decided to wait a while, as the meet time was still a few minutes away ( as per the convo we had ). Heights of OPTIMISM, eh! Maybe, it'll happen, I kept thinking, trying to boost my confidence; reassuring my enthusiasm. DAMN, I SO WANTED THOSE TICKETS! A whole hour passed, and then another, nothing happened. I decided to ring the guy again. After all, at best he'd slam the phone down. Pepsi IPL Ke Liye Kuch Bhi Karega :D

Me : Ring Ring....
Operator : The number you are dialing is currently busy.
Me : Ring Ring....again
Operator : The number you are dialing is currently switched off.
ME : Sigh!



SCENE -4 ~ the recce...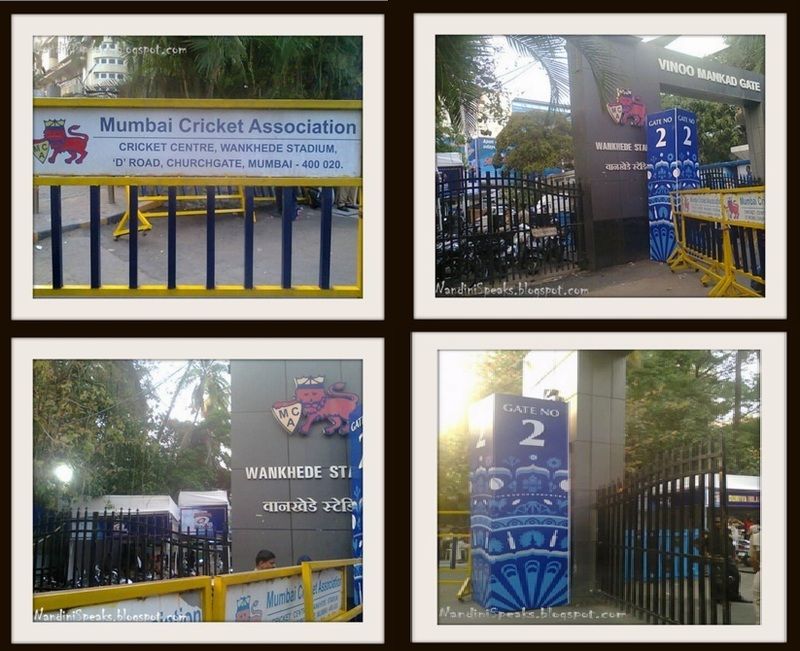 And so with my dwindling confidence, I kept waiting and waiting, but there was no sign of Roshan or the Blogger Meet. Damn! I lost my chance to a free match-ticket, I thought hopelessly. In the end, I went to the counter...but the counter had closed ( except for some VVIPS ). WHAAAT!! This can't be happening. And I also realized, I hadn't brought enough money with me for tickets. I was expecting a Free One for-gods-sake! DUH! It seemed the whole universe was conspiring against me, that day. Now, they'll surely throw me out for loitering outside the stadium so long. I tried to recce the premises. Could I just sneak in? Could I jump over the iron wall or side gate, when no one's watching? I only noticed security guards everywhere and plain clothed officials too, who gave me some really narrow and disapproving looks, that said - SHOO!!



SCENE -5 ~ the fortress it was...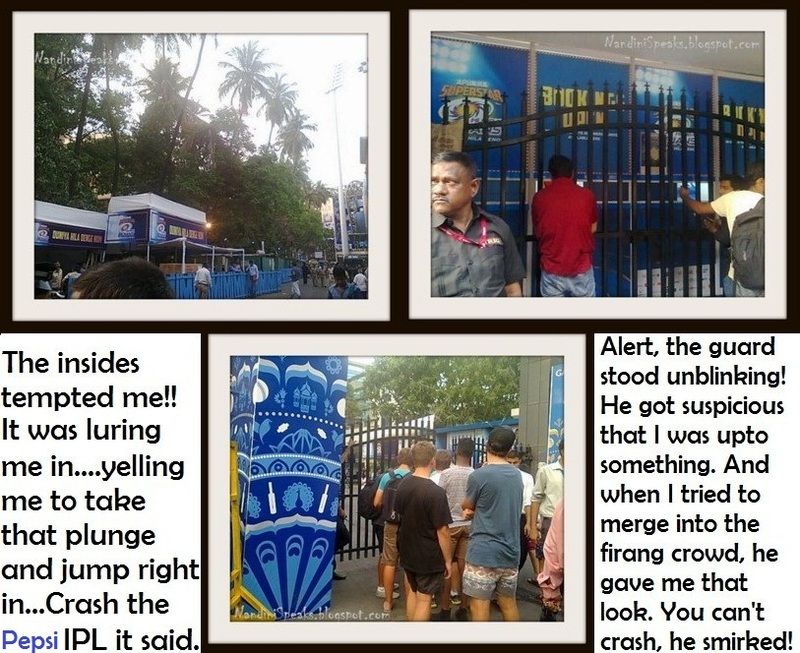 SCENE -6 ~ alas, the idea...

SCENE -7 ~ the next day...the match-day...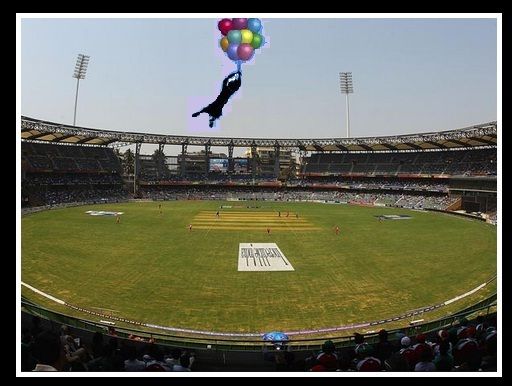 WooHoo...Can you see me? Look Up. Yeah, I bet you can now ;-) And that's how I crashed the Pepsi IPL for real \:D/ in my own Style....
ain't the above post, the perfect ad for Pepsi IPL now, in blogosphere of course ;-)
..¸¸.•*¨*•♫♪¸¸.•*¨*•♫♪¸¸
Pin It Now!
❤❀❤

( Images - cricketcountry.com, gamegrep, 123rf, pkworldsfree4u.blogspot & © Mine, All rights reserved ) | The Pepsi IPL is slated to begin on April 8th, and the whole of India will now be divided by the jersey colour of their favorite teams. Apart from nail biting games of cricket, Pepsi IPL is about glamour, big brands, seeing and being seen. For the first time in the history of the game, Pepsi is giving fans a chance to #CrashThePepsiIPL – make video ads that will be seen by the whole country during the Pepsi IPL matches. This Pepsi IPL, it's not just about cricket. It's time to crash with your own created ad! Make your own Pepsi ad & if it's chosen, it could play on TV during Pepsi IPL! And hey, it doesn't end here… Even if you're chosen as a finalist, you stand a chance of winning a prize amount of Rs.1 lakh! So what are you waiting for guys?
Winning post of Pepsi#CrashTheIPL contest in association with BA

Stay Connected & Follow my Updates on the blog's GFC | GOOGLE+ | FACEBOOK | TWITTER | BLOGLOVIN | NETWORKEDBLOGS
---