¸¸.•*¨*•♫♪¸¸.•*¨*•♫♪¸¸
I'm a big time travel enthusiast and is always on a look out for travel opportunities. I have two blogs, but my travel posts on both are little scattered as I do like writing other niches too, like Creative Writing or reviews. But my enthusiasm for adventure is intact; infact growing by the day. I get really pissed off when I see so-called travel bloggers posting random common monument pictures and some wiki-type info along with it; but not a word on their whole travel experience or adventure ( if any ), and neither any personal pictures of their travel. I can't called them traveler; they are just tourist - who go place ( write nothing about the journey and observations ), click photo ( post that 'monument/structure' picture and some random blah blah copied from wiki ). So, I was wondering - where on earth were the 'real' travelers and adventurers!


¸¸.•*¨*•♫♪¸¸.•*¨*•♫♪¸¸


Thankfully, my question was answered in the form of #AWLMumbai meet for adventurers! I met some gems and oh..what achievement they've achieved. I'm like a mouse in front of them, if I were to rate my experiences. They are really hardcore adventurists. If I achieve even 1/4th of it, it'll be simply great. But before we get to those details, let me take you through the event that was!

3rd Dec, I reached almost an hour early in the venue ( that should leave no doubt about my adventure spirit that was at an all time high and oh BTW..I'm awaiting my early-bird prize )! At registration, I was given a huge bag filled with travel brouchers ( of Malaysia, Oman, Exodus, Intrepid - sponsors of the event ) that I drooled over once I came back home. I met the very friendly PhotoKatha girl Rutavi, who told me about the on-going contests - best selfie, best question to panel, max tweets, interesting tweets ( I did take part in a few, but ...... *sigh* ).



¸¸.•*¨*•♫♪¸¸.•*¨*•♫♪¸¸

So, as the venue started filling, I saw the would-be *speakers* giving quick video bytes on "What adventure means to you?" Almost half an hour late, the meet finally started ( much to my relief ) in a light tone. Moderated by Anil Srivastav ( the guy I envy for stealing away my Spain trip prize ); he introduced the first batch of speakers who were the sponsors ~ Andrew Appleyard ( of Exodus Travels ) and Jackie Burnside ( of Intrepid ) and also Gauri Jayaram.

This was quite a refreshing session, with Anil throwing out 'Adventure Caps' in between, for those lucky enough to catch. I couldn't....*sigh* The trio talked on how they started ( the origins of their journey ) and also about the 'holidays' their companies ( i.e Exodus, Intrepid & Active ) provides. Andrew explained how travellers are looking at experiences beyond "coached tours" ( as coach doesn't take you to the forests of Borneo, said Gauri ). Traveling in small group trips is much more fun than a larger group, said Jacquie. They also discussed on food, how sometimes local culture loses its character in trying to adapt to a global traveller; and how finding authentic local cuisines become difficult. Jacquie gave her take on travel destinations for foodies. Mr Andrew Appleyard has an amazing personality, and his talks in an entertaining manner, instantly inspires people to travel. "All you need to do is to decide to break free from your life shackles and @ExodusTravels will take care of you," he said. He also gave amazing info on how they had the youngest traveller at only 11 months old for a cycling tour in Paris and the oldest being an 87 years old for a desert safari. He talked of Namibia & Masai Mara; Namibia and Italy being his favourites. Namibia, is 3rd least populated place on Earth; and has just vast open spaces to explore. They also have tours within India too. "India is a good place to start your backpacking adventures; with places like Matheran etc." Anil concluded.



¸¸.•*¨*•♫♪¸¸.•*¨*•♫♪¸¸

GURMEET SONI BHALLA : First speaker of 2nd session was Gurmeet Soni Bhalla. "The idea is to die young as late as possible," she said, aiming to run marathons on 7 continents. Why don't I run 7 continents? she asked herself. I have done 4, 3 more to go! Inspiring Gurmeet said, her fear of being fat/obese made her run and now keeps her fit! She had tears in her eyes when she ran the Greek marathon and finished it. She is actually a woman who does-it-all instead of the usual know-it-all - from being a Paediatrician, mother, scuba diver, marathoner and a traveller! She'd like to represent India for the Marathon in Antartica, that's her dream. Her husband runs too, hence, compliments her dreams and achievements, and also encourages her!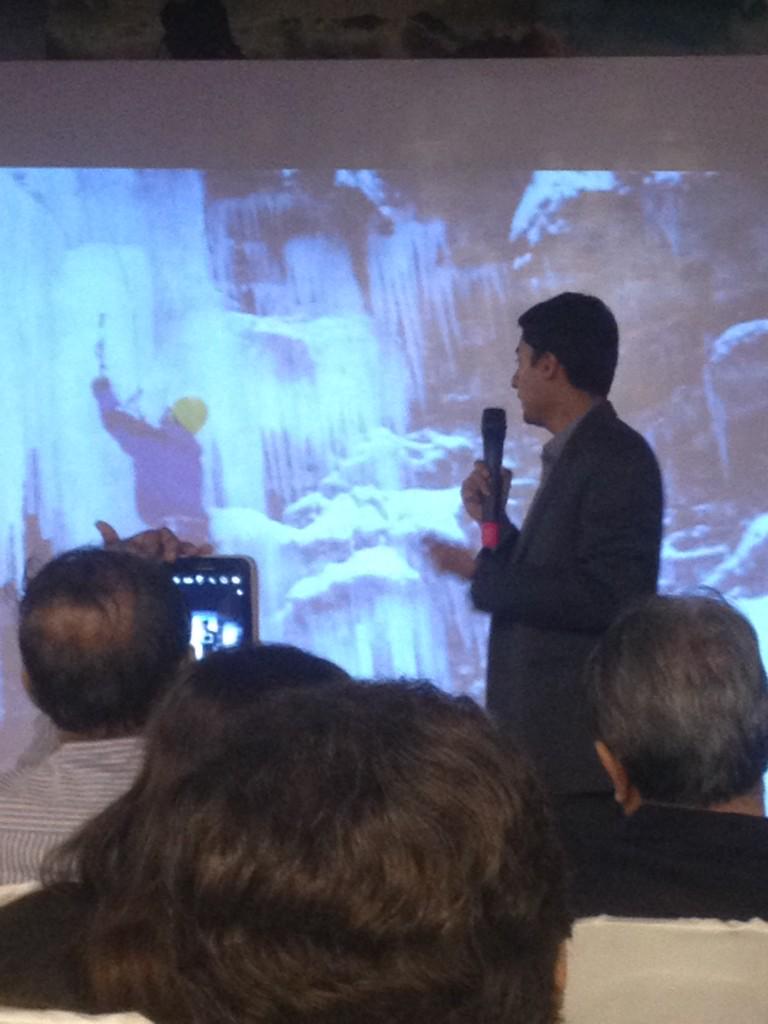 APOORVA PRASAD : Second speaker of 2nd session was Apoorva Prasad, Founder & Editor-in-chief, Outdoor Magazine. He spoke on surviving extreme adventure! He narrated his mountain climbing experiences via a short video, wherein he explained, among many things - How to say Yes & how to say No when a chopper comes to rescue you. Climbing make you a better cook too, as you'll need the food to climb. He loves hills, paragliding, scuba diving and wants to be a certified experienced sky diver. He shared, how from an amateur level he slowly learnt the technical grips, to be a pro that he is, today. He funded his first climbing tools by skipping college lunch at times and saving up.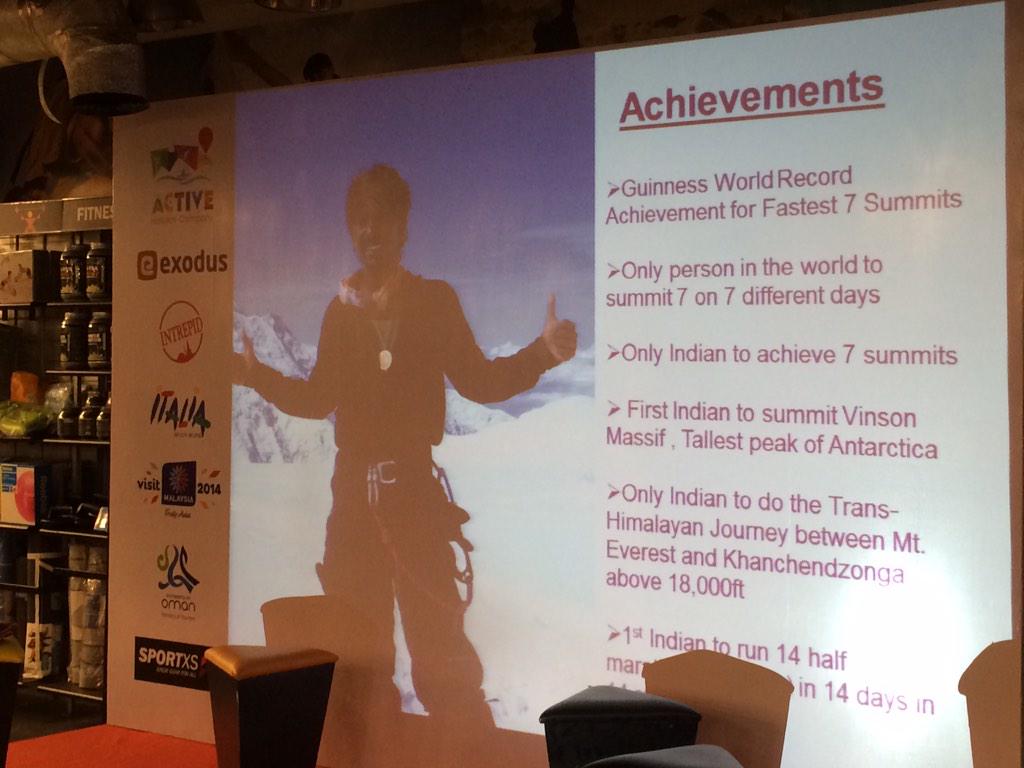 MALI MASTAAN BABU : Third speaker of 2nd session was the incredible Mali Mastaan Babu. World Record holder of Fastest 7 Summits in 172 days! and the only man ( Indian ) to have conquered 7 peaks of the world. Record breaker to trek highest peak of all continents. Wow! He is both IIT/IIM too, so he completed his education first. "Travel is as much of an inner journey as it is about covering physical distance. Travellers wander in search of their true self," said Mali. Admiring Mali, @ExodusTravels said about Andrew as well - "What's common to college dropouts and IIT graduates? Both surrender to the great outdoors and get us high on adventure dope!" Mali funds himself, by charging an amount via his guided tours which has to be as per his instructions only.


RAM CHANDRA BISWAS : The fourth and most interesting speaker of 2nd Session was Ram Chandra Biswas. Oh..what a personality he is - entertaining and mind-boggling. Getting Ram Chandra Biswas to take time off his cycle & talk to an audience is no mean feat. Take a bow, said @activeholidayco. Ram Chandra Biswas cycles around the world ( 157 countries 627,200kms ) with 60kgs ( containing all his tools ), spreading the message of peace! "Ekla Chalo Re! Follow the road, follow your heart. Satisfaction is most important for adventure. We come naked on earth and go naked to heaven. What do you do in between? You cycle to the moon and back. The world is my house, all languages are mine, the world is full of beautiful people," said Ram, of his travels across the world, narrating some really bizzare/amazing experiences of drinking blood, watching beheadings and being massaged back to life by tribals; sometimes coming across fork-roads ( with no sign-boards ) in Africa, where he'd have to wait 2 days for someone to arrive and show the correct path. He has a 145ft long passport, filled with documents, badges and certificates that he gathered from various country's police-stations etc. He dreams to have a museum to showcase all of these. Full of enthusiasm, the energy of this man is simply vivacious; infectious. A walking map, the way he speaks, rattling off names of all the 150+ countries he visited, in a breath - reminded me of the song 'Breathless'. One Dollar, One Language and the world was in his palm when he began. A legend he is for sure. His secret though is ~ he is still single.

While distributing two of Apoorva's journal, there was a 5th in-promptu speaker ( an audience member ) added to the panel, who claimed to jump out of helicopters for a living ( by doing UN rescue work ). She observed that while being rescued from disaster areas, people often thought more for the safety and well being of their kith & kin, rather than themselves. It was very interesting to hear all of them together in the discussion round, taking in various questions from the audience as well. The event ended with prize distribution and a final 'thank you' speech by Gauri, with special mention of her staff Keiron & Igee, who put up a splendid job! And yeah, the final group photo as well ( with me in it too ) ~ after which I headed home stocked with plenty of adventure stories!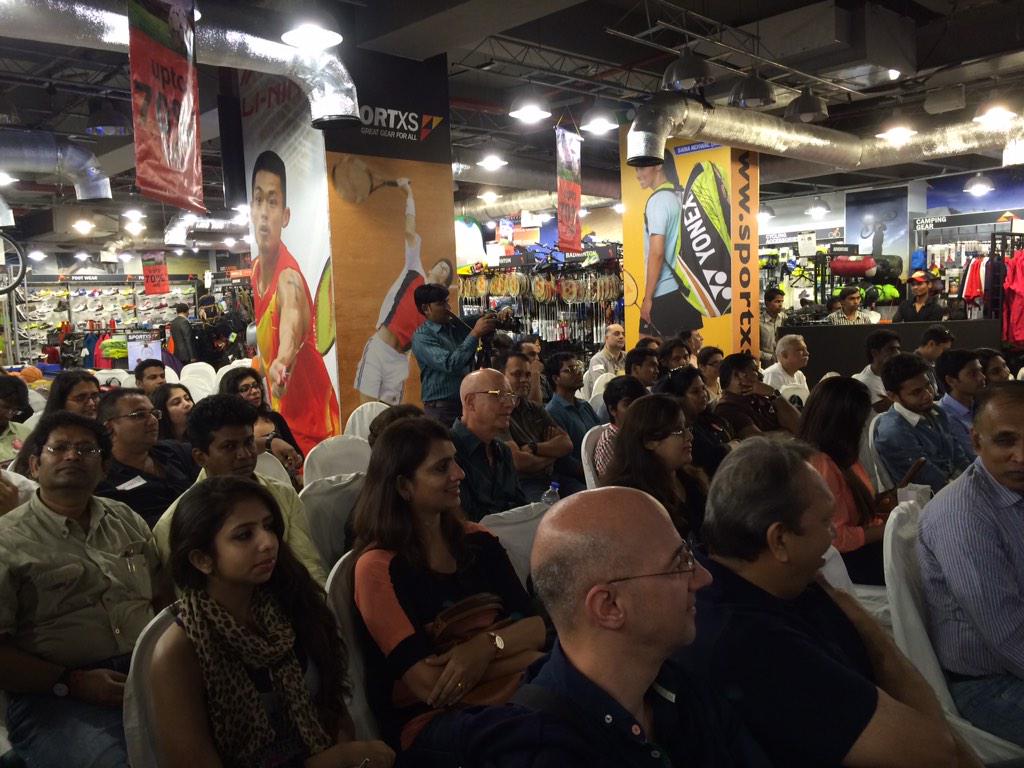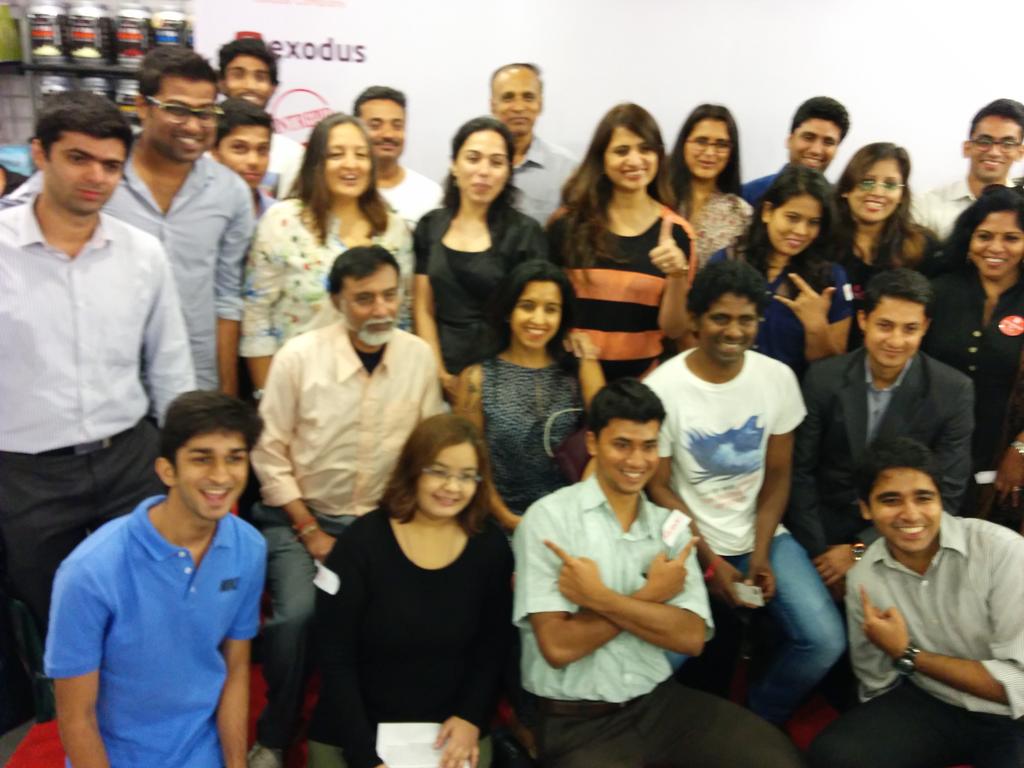 ¸¸.•*¨*•♫♪¸¸.•*¨*•♫♪¸¸
Pin It Now!
❤❀❤


#AWLMumbai Meet Pics ( Images - #AWLMumbai, activeholidayco, travelbud_in & Mine! ).
---