BIGROCK #WORDUP
The invite said - "From the makers of the original and legendary #IndiMum, it's an all-day, invite-only, super-charged, [insert superlative here] event on blogging, and nothing but blogging. Word up!" With an invite like that people were tearing off their clothes just to be there. Who would want to miss the 'awesomeness' right? The seats got full twice, before atlast I managed to sneak in somehow. Phew!
9AM!!!! The hair on my head stood up for 3 whole minutes. I did a double take, then a triple. I kept comming back to the meet page to see if I read it by mistake. 9AM??? Like seriously? For someone like me for whom 9AM is still midnight, I wondered, if I could ever make it on time. I hoped and prayed that they'd delay the timing a bit. Comeon...Blue Frog gigs normally starts at 10PM, and here we're talking about 9AM morning. After drinking several cups of black coffee and splashing buckets of water in my eyes, when the scheduled time still showed 9AM, I resigned to my fate. It was going to be 9AM alright. For that I'll have to wake as early as 6AM - I live in Mars you see. Well, Bombay suburbs are as good as living in Mars for the time it takes to travel. And if I didn't want to miss the fun Indiblogger springs up in their meets ~ I better be on time :|
If only I knew about the 50Early-Bird lucky-draw thingy, I swear, I'd have camped in front of BlueFrog, from the night before! *sigh*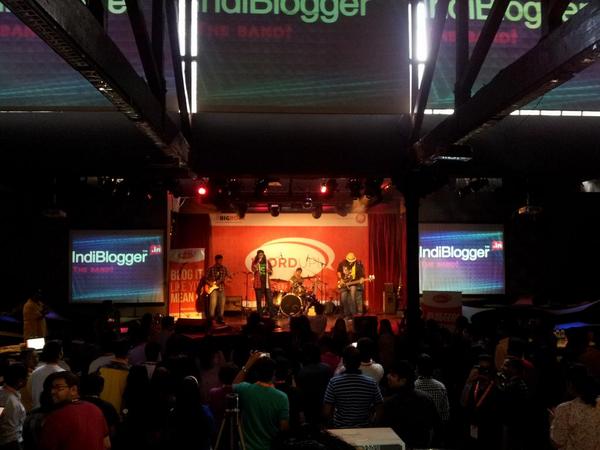 Well, with a set-up like that, the day promised to *rock* and it did ~ big time with BigRock #WordUp and the supa-awesome Indiblogger Rock Band! @ the rocking venue of Bluefrog!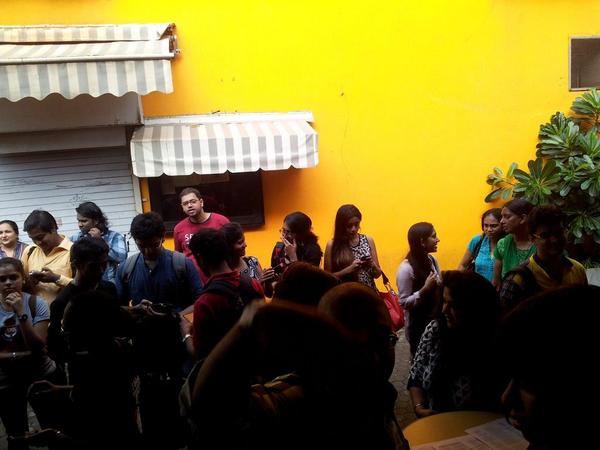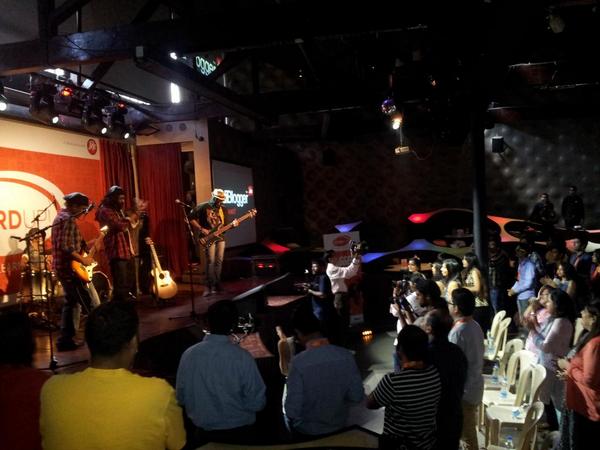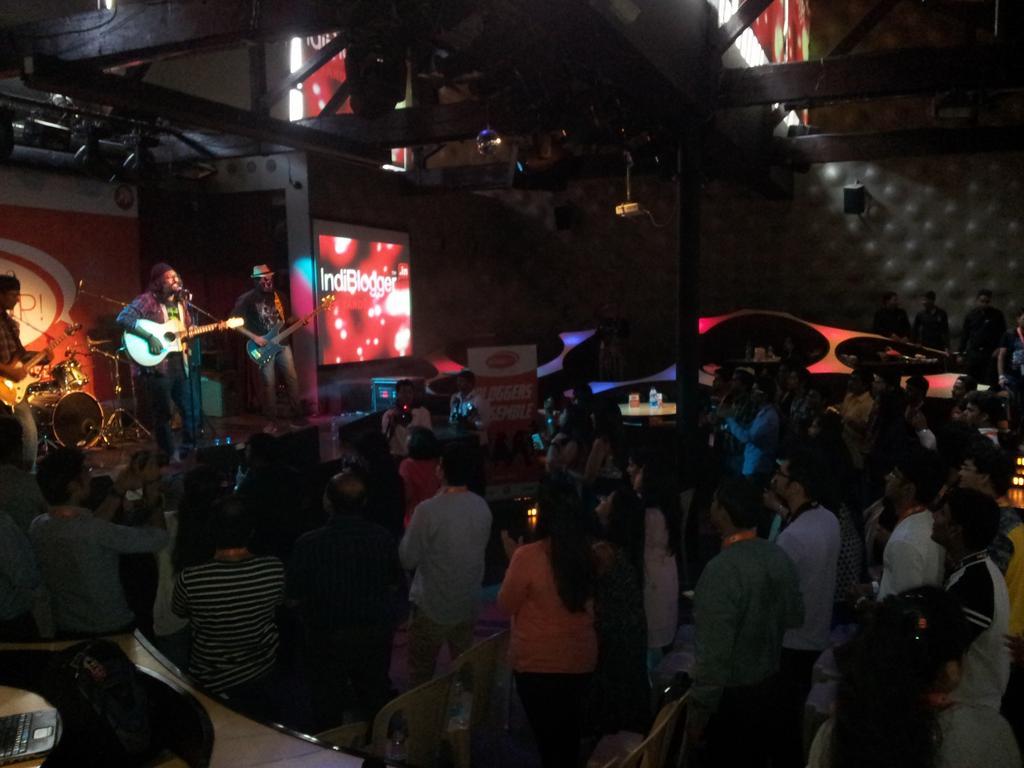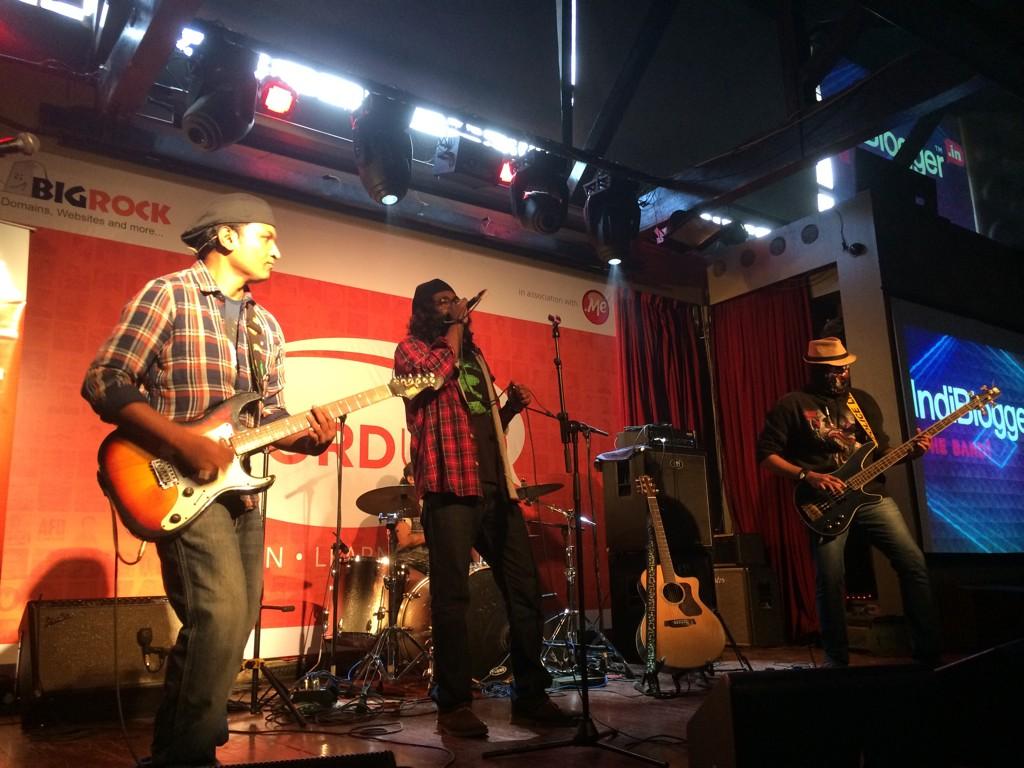 The crowd went berserk with the Band pulling off one chartbuster after another. What a way to start an otherwise sleepy Saturday weekend morning \m/

If I was feeling groggy, sleepy and what not ( even after a yummy breakfast at the venue ), the Indi-Team made sure I woke up and how. They took on the guitars, drums & microphone themselves to yell into our ears ( also our hearts ), by belting out a stupendous performance. Rock concert early morning, ever heard of it? I attended one, that 20th morning ~ and boy! am I glad. Watching the Indi-team in a totally different avatar was enough to keep me awake the rest of the day ~ they are entertainers in the real sense \:D/ I think if they were there to wake me up this way during my college years, I'd have surely not bunked those early-morning classes. Only cos' of them I was ready for my #WordUp class :-)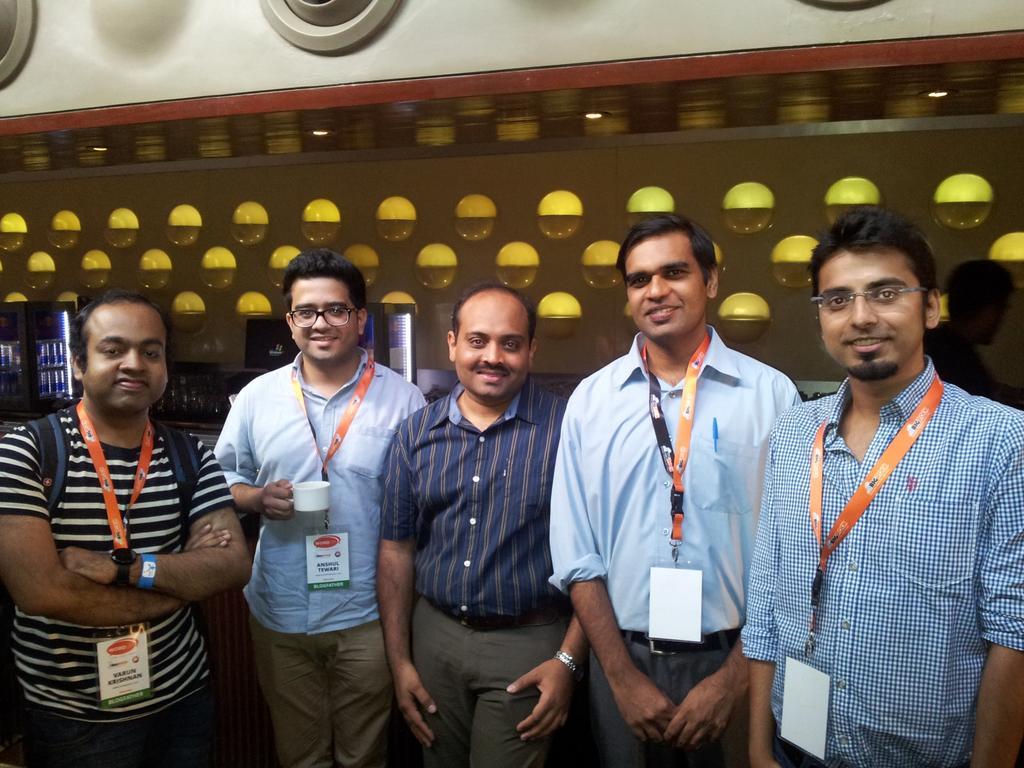 Image Credit - #WordUp.

Oh..Hello??? Did you just faint seeing the stalwarts of the Indian Blogosphere? I don't blame you - I nearly did myself. These are the Blogfathers and Blogmothers of the BlogWorld. Didn't understand? Okay, let me rephrase that. They are the Amitabh Bachan and SRKs of Bloggywood. Now, when I take these names, you get an idea how massive they might be, right? Okay...you can relax now. Sprinkle some water into your face so that you don't faint again, as I share the impressive details & tips these guys shared with us in the event. Yes, these awesome speakers who are top in their niches, spilled their success secrets, can you believe it? If it had been me, I'd have locked my secrets in a safe ( ah well...maybe that's why I have yet to catch up on their popularity rankings *sigh* ).

So, we had this BIG line-up of speakers in this BIG event that was sponsored by BigRock. What's the connection, you'd think? Well, for one these all are bloggers and super-successful ones at that. Well, one thing goes in their favour is that ~ they were the earliest set of bloggers, when blogging first arrived in the scene, so naturally they got success early on ~ being the pioneers really. All of their speeches were directed at how to make our blogs better, bigger and unless one goes for professionally hosted platforms ( like BigRock ), the blogs remain mostly buried in the search engines with an amateurish look/feel about them. Hosted with a proper domain name, makes them search-engine friendly and optimized. BigRock's new launch i.e the .ME Domain is all set to give the blogger community their own identity and 'voice'. Cool haan!


First up was a Politician from the ruling party BJP in the podium. Confused? Even I was, after all what on earth is a politician doing in a blogger's meet. Well, when he started speaking for about 30mins or so, it all started making sense, atlast. "Let's work for the change" said Vinit Goenka. The Collective Responsibility for bloggers and the like ( a.k.a everything related to social-media ). We have come a long way from the ancient cave-man's medium of communication. We have now, a medium at our finger-tips that can spread information like wild-fire ( remember the arab-spring movement - a result of social media usage ), and bring massive changes in not just society, but even governance and in almost every aspect of life; so, being responsible about it is the key. And these days no government can afford to deny the power and influence of social media; it has infact brought both public and the rulers more closer, while earlier the rulers were aloof and virtually unapproachable. Now, opposite is the case. Even election victories are mostly a result of wide social-media led campaigns citing both Obama and more recently Modi's impressive victories. He spoke about his party's reliance and usage of technology to connect to the general public via twitter/facebook, hearing their concerns or gathering new ideas for future implementations.


2nd Session was by the Labnol man, as Amit Agarwal is known. I must confess, only after I entered blogosphere I came to know about him. Without wasting any time, with some slides, he gave the following pointers and some more gyaan for a successful blogging career. According to him, Wordpress is a better option than blogger as it is search friendly with more analytical features. Also Google has tendency to scrap away many of its products eg. googlepages, orkut etc. Writing original and fresh content is important, and always remembering to keep content related headlines as the topic title, rather than some flashy-stuff. Value your content and never give it for free ( or for freebies ). Views donot matter, bounce-rate matters. Give attention to your loyal, dedicated readers rather than run after high-profile ones. Main content should always be on top, and the supplementary at the bottom, remove things that are no longer relevant. Build your authority, do guest blogging on high PR sites. Use filtered ads as you donot want to embarrass your readers. He also asked to follow the webmaster guidelines/tips that he generously shared, to take your blog to the next level. So, with all these secrets shared ~ they cease to remain secrets now :-) He gave a list too of sites/apps/
book-downloads to get more help and guidance, that he often uses too. Glad to learn it all from the man himself!


3rd Session was by the very cute Anshul Tewari. It was about "how can bloggers come together to change the world". We should not regard blogging as just a medium of expressing or sharing information, rather take it as a teaching platform ~ use it for inspiring and influencing the thoughts of many! Golden words there, I must say. Audience are your stakeholders, so work for them. And keep it organic, fertilizers are so last season, he adds. One could sense the passion he still has, as he narrated how 'YouthKiAwaaz' started, its struggles, its journey ~ to where it stands now, with his relentless belief in himself and the sole aim of creating socially relevant content. He recalled, how he was snubbed by his parents with the whole blogging thing, but he pursued his dreams. As parents, give your child a chance; he says, know the power of blogging! One should be passionate enough to follow his/her own dreams, and dare to venture beyond the realm of friends and families. "I'm a part time blogger turned full time entrepreneur," says Anshul ~ meaning, good bloggers think like entrepreneurs! Now he has a team of writers ( including young budding ones ) and though his website doesnot feature any advertisements he has a venture capitalist as sponsor, and also he funds it periodically via UN's or any such organization's socially relevant themes by engaging the readers. Constantly innovate around content and sustain it. Be professional about it. "Believe in your dream and continue working hard despite disappointments. Rewards will eventually follow as success comes from perseverance!" I enjoyed his amazing session thoroughly. He promotes his site massively via SocialMedia too.


4th Session covered Vblogging. Another story of how inspite of parent's objections, how Lakshmi pursued her dreams and went on to create 'Chai with Lakshmi', a very successful Youtube based chat-show which has over 30 million+ views to its credit. Wow! BigRock's answer to Koffee-with-Karan, you'd think. Starting somewhat solo-ish kinda, Lakshmi now has a dedicated team by which she manages the good quality, professional kinda productions in her videos. She spoke about the investment and skills it takes to create good stuff. Lakshmi specially covers unique achievers ( socially relevant start-up/entrepreneurs ) working for change in India through her shows; which makes it quite an interesting genre of shows. We got a glimpse of it too ( of what she does exactly ) via her conversation clip with an expert regarding Aforestation using Miyawaki - a quaint japanese technique.


So, in the 5th Session, Lakshmi Rebecca next grilled Sumit Singh of Cleartrip in a delightful live tete-a-tete. #Less is the new more ~ Sunit said, sharing his own views on how minimal, uncluttered design and easy navigation with templates that are responsive, even attention to details such as font-colour, size etc ~ are a must in your website/blog, for your content to look clear and visible in all formats, including in mobile devices. Keeping it User-friendly, so that readers donot get pissed off, but instead returns for more.


In the 6th Session FoneGuru, Varun Krishnan from FoneArena took the stage. He explained the importance of Monetization of blogs and the great ( and many ) ways of doing it. "Blogging is not about freebies and posting false information," he said, regarding Blogging Ethics. And also that adsense makes so much sense ~ and I agree wholeheartedly!

The 7th Session was by Krishna Chepuri, from @TheUnRealTimes. He spoke about the legal aspects in regards to blogging, citing his own examples of how he ran into trouble for ruffling many feathers in the not-so-distant past. He got many notices from certain poltical big-wigs. Since his site does satires, they often get into controversies ( esp the million+ views infamous satirical video of Sonia Gandhi and MMS, that got them into trouble and a Sec66A slapped on them as well; with nothing really coming out of it in the end ); but still they kept taking risk. Interesting fact he shared was about the Sec 66A which was passed under A Raja's ministry, under which one might end up in jail for putting up any contents online. One should have the courage and conviction, but at the same time be aware of the legal implications. Thus, the content should be carefully written with legal impact in mind. The site is hugely popular and has grown a lot due to its unabashed humour quotient. Unfortunately, he adds, Modi&Co doesnot give as much 'meat' as their predecessor did, to make satires. His session was humourous and quite tongue-in-cheek which I enjoyed a lot.


8th Session post-lunch, was by Scherezade a.k.a Sherry Shroff talking about lifestyle, beauty and fashion. First of all, she is very pretty naturally so I was left wondering if she needed any product at all as the rest of us mortals. Nonetheless, she said that she used the product first and only then vblogged/
blogged about her true experiences and advices the same to all. She does not do things purely for money, but does it for the love of it. She spoke on "how do you commercialize your blog while staying true to what you represent ~ by not being fake! Being yourself." She also said how she remains intact with her principles eg. personally she does not use facewashes ( uses Medimix instead ); hence, would never endorse it via her channel. Beauty products have varied results on different people/skins, so it's best to try it out yourself first ~ simple and sensible gyaan. Her casual informal demeanour was indeed rocking. She also urged bloggers to "find their voice". She also does her shoots/edits all by herself, without any team, SEO etc figure that! and keeping constant contact/engaging with the fans is most vital for your blog to grow, she advised. Quite an interesting day in life of a blogger indeed.


9th was all about SEO ( Search Engine optimization ) by the SEO pro himself, Harsh Agarwal of shoutmeloud.com, with some golden words like ~ "I think, therefore I Blog. Everything that's digital never dies. Blog it like you mean it and keep it user friendly and eye-pleasing in a good way." Good work will pay ( in attracting sponsors ) especially those ~ who admire people who are known or respected for their work and yes, find your voice. Just be yourself and deliver content which will make readers believe in you and come by themselves again and again. Those who see products pop up which they want to buy, in ads, they will do so. Yes, we blog for money. We aren't being paid is another thing! Webmaster tool, Bing, Google and Yahoo are most important places where you must submit sitemap. He spoke on Data Warehousing & Mining, Meta tags, Keywords, proper Post Titles/Headlines, tricks to Remove Date/Time-Stamps esp in older posts, so that in search pages the date donot come up, as it generally happens ~ thus, helping your content in reaching a wider global audience. He too endorsed Wordpress heavily.


10th Session was another one of my favourites by Snigdha Manchanda, founder of TeaTrunk and StoryNinja. First part of her session was about her obsession for tea and the entire tea-adventure, the intensive training she got under japanese-tea guru ( she has record of tasting over 100 different types of teas in a single day ), which has now led to having her own brand of teas. Yes, there are all kinds of teas out there and most sourced from the same plant. Intruigiung stuff, ain't it? Anytime is teatime, she says. While speaking on story-telling, she was full of golden words too - "Bloggers are the most creative people on the planet Earth. Ideas come and go, stories stay. And each person has a story to share." Storytelling is a deep art consisting of patterns, ideas, a transformation and a journey to return. Spot a pattern and then breaking it is what story telling is all about. Believe in yourself and write great content. The hero is often the weaker one, than the villian, but still he/she wins the battle in the end. In the hero's journey, there is no gender bias. In creative writing, there are 7 basic story idea plots ( romance, tragedy, quest, comedy, rags to riches, transformation/rebirth ). Each story should have a personal touch ( i.e author's own feelings, challenges, emotions etc and attempts to overcome/succeed ) and should touch the reader; that'll make them connect instantly and come back for more. Crisp and vivid, one should be able to visualize in one's mind, the story they want to write. Not long dragging, but it should move on the story that is.

11th Session was by Bhavish Ailani doing a short stand-up comedy act, that had everyone in splits. His Golden words - "In Bombay there are two states of consciousness ~ pre-dadar and post dadar," not to mention his funny jokes on married men too.

After all these mind-bloggling engrossing and informative sessions, Renie Ravin of Indiblogger spoke a bit on blogging philosophy. There were twitter Q/A contests throughout the sessions, as well as Selfie/Pic of the Day with prizes of SennheiserHD205 headphones, 1-10 contest - with people winning stuff like 2k vouchers to potatoes & bananas. And lastly the distribution of Lucky Draw 'Early Bird' prizes of Moto X and Moto G. WHOAH!! BigRock was playing BigSanta that day! All in all, a day full of LISTEN.LEARN.EXPRESS AND ENJOY!!! Along with the gyaan, I came back home richer with a BigRock laptop bag, IB T-Shirt, cool speaker and a .ME Domain. Thanks IB & BR!!! Whatta day you guys made it! Cheers~



¸¸.•*¨*•♫♪¸¸.•*¨*•♫♪¸¸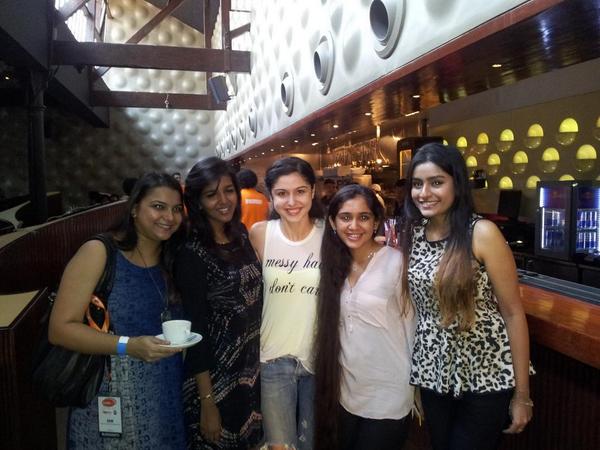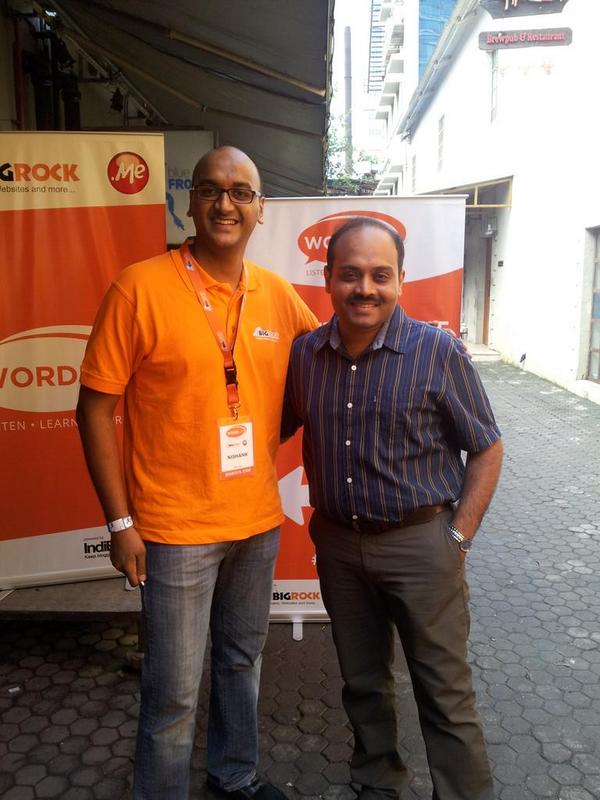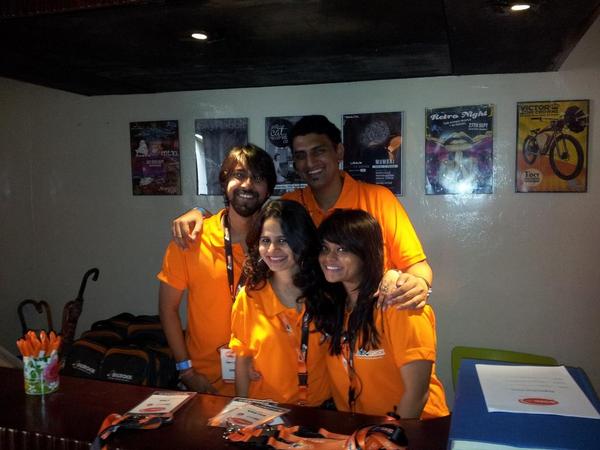 Orange, 0range everywhere! Cheers to the fantabulous BigRock #WORDUP Orange team ~ See More Pictures of the Event ~ Here, Here & Here!
¸¸.•*¨*•♫♪¸¸.•*¨*•♫♪¸¸

THE BIGROCK #WORDUP CLIMAX ~ Nothing like the Indibloggers letting their hair loose and madness taking over. HeadBanging and Hurr Hurr :-)
¸¸.•*¨*•♫♪¸¸.•*¨*•♫♪¸¸

#WordUp & Games People Play ~ IndiBand in Action
Pin It Now!
❤❀❤


This post is part of #WORDUP in association with Indiblogger ( Images credit - Bigrock #WordUp & IB. )
---