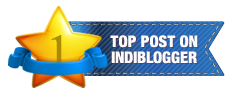 In the rather breezy day,
gaily she walked,
A free spirit unaware,
that she was stalked...

Plucking fruits and flowers,
in the wilderness,
She strolled on deep,
totally clueless...

Lost in her tracks,
she looked everywhere,
Surrounded by tall trees,
in middle of nowhere...

Tired and sleepy,
she felt quite helpless,
Who will rescue her,
she nearly cried out...

A sudden deep gurgly voice,
made her turn back,
Hair in her body stood,
seeing the entity, hairy & monstrous...

Sheer fright made her,
scoot and run,
But there wasn't any place,
she could really hide...

I've been following you, it said,
where will you run?
This place is my kingdom,
you're my guest, most welcome...

Suddenly, a warm smile,
made the monster look so cute,
And words so warmly said,
trust him, she knew she could...

Her fears went flying,
she made a new friend that day,
After a day of pampering;
she reached home, safely & gay.
Pin It Now!

❤❀❤
Stay Connected & Follow my Updates on the blog's GFC | GOOGLE+ | FACEBOOK | TWITTER | BLOGLOVIN | NETWORKEDBLOGS
---