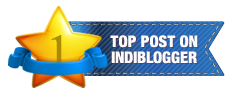 :: Today is
J
- JULIE'S HUSBAND ::
A shuffle in the room caught her attention.
The doors and windows, closed, as they were;
the cool breeze that blew, was very rare!
She wondered where from, it had entered.
A familiar muffed cough, then, distracted.
All alone in the house; who could it be,
she wondered.
The air sure did feel strange, that hazy morning; her inner-voice warned.
"Julie, it's me," Hearing a voice, she froze;
"Come over here," as it spoke.
She quickly drew apart the curtains;
as the sunlight then filtered in.
In the dust that glistened, image of her
late
husband
flashed, like a lightning.
This post is part of the A-Z challenge for April'2014. Except Sundays, post everyday with 26 alphabets. Also posted 214 Magpie Tales ( photo by Kelsey Hannah )
---