How far would you go to get closer to someone you love?
The Story Began Here in the British Council #KnowledgeIsGreat contest, where left a clue by his lover, Raj followed his heart all the way to London. For his beloved, he took up the challenge to make something of his life by taking advantage of Great Britain's impressive Education infrastructure and finally seek her hand in front of her parents, who disapproved of him. Love finds a way, they say!
In the backdrop of the Big Ben,
Their love bloomed, once again.
Crossing hills, rivers, all terrains,
Across several continents,
He came flying the British Airways,
To lay his head on his lover's lap.
A lover's call he had answered,
Yet, his heart still yearned,
For the loved ones, he left back.
And The Story Continues...
¸¸.•*¨*•♫♪¸¸.•*¨*•♫♪¸¸

They Re-United, Their Love Soared New Heights, They Lived Life to fullest - yet his Heart-Ached for his old parents. Until...

"How was the interview my dear?" It was Dishi's excited voice on the phone. Her voice always swept away all his worries. It was so melodious, soothing and always refreshing.
"Great Dishi. They were quite impressed and things went really well. Am sure to bag this project," Raj replied confidently.
"Ooh! That's really great news. Fingers crossed on this one. I've to run right now, will catch up in the evening, Okay? Till then, take care, Muah."
"K! Love," Raj kept the phone down and turned back to his work station. He was a part-timer here. Few days more, and he'd finally get his dream job. He could hardly wait. Dream job also meant sealing his relationship with Dishi permanently in the bond call 'marriage'. Wasn't that the reason, why he was in the UK after all, in pursuit of her #CatchMeIfYouCan clue!

It wasn't easy though. In London, his life had been a constant struggle. Born with a silver spoon, Dishi had all the life's luxuries; but he had to start from scratch. Along with studies, he worked at various places - which left the love-birds with hardly enough quality time together. There was also Dishi's supposed-fiance to deal with too, which was tough. When Dishi's parents came to know about Raj's presence in UK, they alerted Prince.Vikram to keep an extra watch over their daughter. But could anyone stop the determined lovers? Breaking away from the clutches of traditions, she had run into the arms of her lover - who had come all the way only for her.
Atlast, Dishi's parents relented only on one condition, that Raj should prove himself worthy of her. That of course meant - the highest paying job, that could give Dishi the lifestyle she was used to. And thus, the real struggle had begun...

And now after 4years, finally he was getting close to achieving that. Looking back at the past four years, Raj could sense how much life had changed around him. Studying and working constantly with only one aim in mind, he didn't even get the opportunity to go home even once. Oh! He could've gone during the holidays, taking a break like the others did; but he had chosen to work and save up instead. Such was his dedication. And yes, he missed his quaint hometown, his parents and all those unassuming native people he had grown closely in the midst of, terribly. It was a big sacrifice to be away from them for so long.
With only a weekly phone call or an odd letter to be content with, his parents were longing to see him again too, their only son. Every time they had only one anxious question - When will he be coming home? They also had lots of hopes and expectations from him. And finally, things would change though, for better, Raj thought. He could see the bright horizon beckoning ahead. His hard work was paying off, with the biggest offer from one of top fortune 500 companies, no less.



¸¸.•*¨*•♫♪¸¸.•*¨*•♫♪¸¸


"Honey am back!" Raj opened the front door. It was four months into his new job and three months of moving in together with Dishi, in the large company-leased flat. Life was bliss, with Dishi's parents finally giving the go ahead. Their marriage plans were right around the corner too.
As soon as she heard him, Dishi ran to her adorable would-be husband, leaving all her work. She was as usual decorating up the huge place their home. It was her favourite pass-time. They hugged. They were so happy to be together. They had longed for this. It seemed almost a lifetime.

"I've a surprise for you," Dishi said.
"Oh cool, I love surprises," Raj was eager to find out. Usually he was the one who gave her surprises.
"Make a guess first," Dishi challenged.
"That's easy. You've finally learnt to cook," Raj guessed. He often teased her about her abhorrence for cooking.
"Oh you are so mean," Dishi pulled a face, "Make another guess. Or I'll sleep in the other guest bed-room tonight."
"I can't bear that. Atleast, give me some clue," Raj was confused. Sleeping away from his love would be a torturous punishment. And he didn't want to lose the challenge either.

"Okay, answer this. Who means the most to you in this world?" Dishi asked.
"You of course!" Raj replied instantly.
"And?"
"And my parents, you know that." As Raj answered, a certain cloud of sadness crept upon his eyes. He remembered his old parents so far away. He wanted to see them so much.
"Yes!! You're right. There's your surprise!" Dishi suddenly gave him a crushing hug. She felt so soft against him. He loved to hold her this way. It felt so good.

"So what about them?" Raj was curious now, not really getting the 'surprise'. "I hope to get some leave soon, to make a trip home. Maybe during our marriage time hopefully."
"Sweetie, why do you have to wait for a leave? Or our marriage for that matter. You no longer live in that paying-guest accommodation. You have this big house now. Why not invite your parents here? Won't they love it?" Dishi smiled up at him, holding both her hands around his neck in a circle. Her fingers slowly stroke his hair on the back.
"That thought did cross my mind. But I wasn't so sure you'd be comfortable with it. You know they are from very humble-background," Raj was bit hesitant.
"Darling I love you and so, I love your parents too. And the surprise is that. I want them to come here and live with us. I have already written to them."

"You did?" Raj was now really surprised.
"Of course! I have. I've seen you suffer so much because of me all these years. Being away from home, saving every penny. This is the least I could do. And you know what, your parents have agreed too."
This time, Dishi was crushed into his arms again. Seeing her love for his parents moved him totally. He kissed her all over. That night was his happiest night ever. He had made the right choice. He was so proud of her his love.



¸¸.•*¨*•♫♪¸¸.•*¨*•♫♪¸¸


Back in the hilly town near Dehradun, Mr.Rawat went over and over the letter that had arrived a few days earlier. It was from Dishi, his son's choice. Their would be daughter-in-law. He had shared the contents of the letter with his wife.

"Aare sunti ho? They want us to go there," he told his wife, nudging her on the bed.
"Where?" His wife asked sleepily.
"Vilayat ( abroad )," Mr. Rawat spoke, "They've even sent the sponsor letter, other official documents and instructions for Visa formalities. And flight tickets too!"
"Good good, you sleep now. Why that girl invited us and not our son?" Barely listening, Mrs.Rawat was already falling asleep. Doing household chores all day, left her fatigued.
"How does it matter. Maybe our Raj was hesitant because she is daughter of a big family. But since, she has invited us, that means she loves us too," the old man's eyes twinkled.

Four years had passed since they had last seen their son. They were thrilled that he was doing good and very proud of him too. But they longed for him to be back home soon as well. And this letter was a big surprise. Totally unexpected. Inviting them to Great Britain instead. To visit and stay with them - that too by Dishi herself. And they'd be going too, Mr.Rawat thought delightedly. Finally, after the agony of waiting for years, they shall be re-united with their son and also their soon-to-be lovely daughter-in-law. He read the instructions again and again, trying to memorize what was written in it; things to be done during the interview at the British Embassy.



¸¸.•*¨*•♫♪¸¸.•*¨*•♫♪¸¸


"Relax my dear. The plane is already hovering over Great Britian now, as the pilot just announced. We'll be landing soon. You can stop clutching the seat handles in that panic mode now. You've been sitting in that position ever since we took off from Delhi." Mr. Rawat tried to calm his nervous wife. It was their first time on a plane, and Mrs.Rawat was a flight-phobic.
They were aboard the British Airways flight. Dishi had sent them the tickets, along with the letter. Their visa interview had gone smooth and were now on their way to meet their son.

"Come on now! Relax a bit. Seeing your plight, the lovely flight crew are getting worried too. They've all taken good care of us, so far, haven't they? The least you can do, is show your appreciation by relaxing a bit." Mr. Rawat coaxed again.

Indeed, the British Airways flight attendents were at their hospitable best. Right from ground to on-flight, they attended to any queries the passengers had, patiently and diligently; looking after their comfort. Many times, they came over to comfort the nervous Mrs.Rawat too, who was simply scared of flying in a plane.
After hours of cajoling by her husband, Mrs.Rawat slowly tried to relax a bit and loosed her grip. If nothing had happened for almost 8 hours of journey till now, then surely nothing might happen in the last few moments as well. And in the spacious clean British Airways aircraft, the journey had indeed been a comfortable one too - food, blankets, entertainment ~ all taken care of; Mrs. Rawat mused silently. Seeing her finally calming down, Mr. Rawat breathed a sigh of relief and started pointing at the landmarks that had started to appear below, from the UK guide-book he held in his hand.
"That's the famous River Thames, and that's the Big London Eye!" He was getting very excited now. In a few moments, they'll see their son.


"That's them,!" Dishi exclaimed, tugging at Raj's elbow. They were waiting at the airport arrival lounge. Tears of happiness streamed down Raj's cheeks when he saw his old parents at last, walking uncertainly in the big Heathrow airport.
"Papa!" He called out.
Their eyes met. And time froze for a second. Recovering, both sides rushed towards each other. What followed next was ~ happiness, hugs, laughter and overwhelming love :-)



¸¸.•*¨*•♫♪¸¸.•*¨*•♫♪¸¸
Love does not mean 'love' only between a couple. Love for your parents & vice-versa are the base of love. Going any lengths to show love to your parents is true love.
¸¸.•*¨*•♫♪¸¸.•*¨*•♫♪¸¸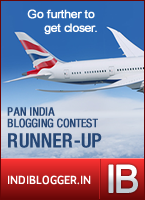 Show your love to those who love you so much. Give them the surprise they'll love. Bring them close to you from wherever they are ~ with British Airways.
Pin It Now!
❤❀❤

This post is part of
British Airways - Go Further to Get Closer
contest in association with
Indiblogger.in
| Liked it? Then please
'VOTE'
for it >>
HERE
|
( Images - Google, SuperStock & Zastavki.com )
|
Fly with British Airways from India and enjoy award-winning service, excellent value for money and no hidden charges!
ENJOY AWESOME ADVANTAGES WITH BRITISH AIRWAYS :
1. Seat selection available online 24hrs in advance | 2. One checked bag to the UK and two to North America | 3. Airport, online or mobile check-in | 4. Complimentary onboard food and bar service | 5. Pre-order your choice of Jain, Muslim, Hindu or vegan meals | 6. Enjoy the latest movies (including Bollywood), TV, and music on your personal seatback screen | 7. Earn Avios points when you fly to spend on reward flights!
~ [
SPECIAL OFFER :
Get closer with up to 70% off fares for couples to London, when you book by 28Feb & travel by 30June'14.
]
Winning post of #MrAndMrs Contest in association with Indiblogger
---