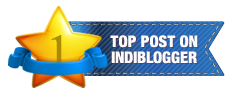 I sat frowning,
My mood upset,
Why this world, I thought,
Is so twisted?
Why can't people let others be,
Why to succeed, the need to trample thee?
Expectations unreasonable they keep all times,
Hoping we will gladly fulfill, compromise.
Every institution corrupt, and,
Filled with stenchful greed,
To clean our souls,
Is the urgent need!
In all these mess,
I'd like only one change,
God, please gift mankind,
Their lost innocence.
Pin It Now!
Copyright 2013 © Nandini Deka
( Images : Google )
---