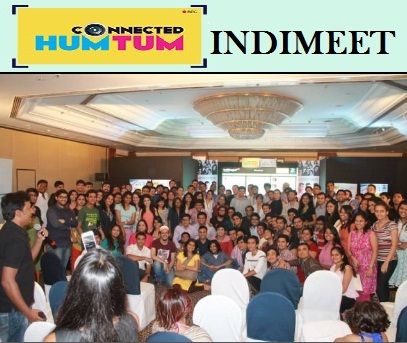 "Driver, drive fast! Its already 7pm, and we are still stuck in Bandra," I almost yelled at the cab driver impatiently. Just like one doesnot want to miss the begining of a blockbuster movie, I didn't want to miss the begining of the 'Zee Connected #Hum Tum Indimeet' at any cost, with me already having tasted the 'blockbuster' feel in the previous IndiMeets that I had attended. The cabbie was at his wits end, not quite sure how to deal with my angry grumblings or with the typical weekday evening traffic that mercilessly converted the most expensive of cars into bullock carts moving at snail's pace
( if you can figure out that combo )
on the highway.
So, by the time I ultimately reached the venue ( which was ultimate awesomeness -
'THE LEELA'
), the event had already started. Anoop, from Indiblogger, was already at his antic's best, of displacing the bloggers and juggling them between two 'white' lines marked in the hall, asking them the most weirdest of questions, with the over enthusiastic bloggers all too eager to please all his whims and fancies
( nah, I dont mean any double meaning here - its just his weird Q/A's )
. Prior to my arrival, I'm sure he already got the bloggers in a frenzy in various games. He always gets away with anything cos he knows how to bribe them with prizes exactly at the right moment ;-)
So, all jumping around done, with the surviving few picking up some cool prizes, there was the usual 30 seconds of fame for bloggers to introduce themselves
( my number never came, sigh! )
. Twitter contests ran on the background as well
( whats the odd thing you find on a lady's purse, and what 'HumTum' means to you )
, keeping bloggers busy tweeting. And they don't tweet without a reason. Announce a prize as a motivation and they gonna tweet 24 hours ;-)
It was then time to get down to serious business, which was unveiling the reason why we were all assembled in the venue. But not without one last crazy activity though yet. We were told all 6 participants of Zee's Connected #HUM TUM were sitting amidst the audience and whoever succeeded in finding them and clicked their pics with all the six, would win a Nokia Lumia 520. A sudden madness errupted in the hall, with everyone running helter skelter trying to spot the mysterious 6. In the end, only 2 bloggers managed to get all 6 correct. But, there was only one Lumia to give away! Maha-confusion about whom to give the prize. So, an inpromptu arm wrestling match was announced to break the tie, with a teenager defeating a mother of one within seconds.
Everyone became sane once again when the director of the show, Paromita Vohra took over the dias and finally began introducing the 6.
The show is women oriented but its not dull, boring or preachy, rather it portrays the present day women and their lives quite uniquely and interestingly
( with all of them self-shooting the videos themselves, recording every aspect of the lives for almost 6 months, that has been further edited and condensed into a 13 week show )
. It is the first time, that this one-of-a-kind show will be aired on Indian television
( originally inspired from an Israeli show )
So, who are these 6? Ok - Finally here they are on my blog :-)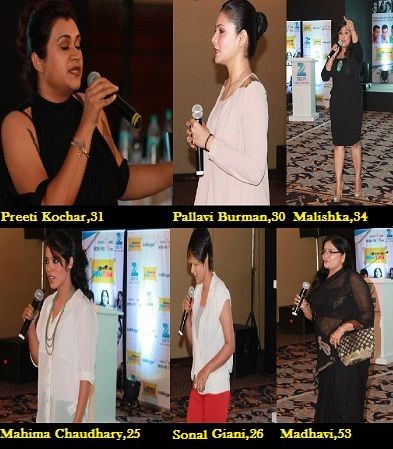 It is quite an interesting mix of individuals from all walks of life. All independent! All courageous! And all at interesting crossroads of their lives.
Preeti Kochar - a dentist and belle dancer, a mother. She wants to be successful both at home front as well as leading an independent life pursuing her love for dancing. She juggles both her responsibilities as well as her passion, but would one get in the way of the other?

Pallavi Burman - brand manager and shopaholic. With a failed marriage in the past, she is going the matrimony way once again and this time wants to make it a success and is quite determined.

Malishka - a famous RJ, self-made woman. She is now wondering - fame hai, success hai but what next? Will she get the guy of her calibre to settle down with or is the search unending with her kinda man nearly impossible to find on planet earth.


Mahima Choudhary - a struggling actress from small town. She hails from a conservative family, who came, like all other dreamers who throng this city everyday, hoping to make it big. However, success is not easy to come by but she is not willing to give up yet.

Sonal Giani - an LGBT activist and theatre producer. She is searching a happy ending for her unusual love story. Will she finally get what she wants i.e her love and acceptance?

Madhavi Mauskar - foreign language expert and corporate trainer. Just when she is enjoying her life and freedom after two failed marriage, her first hubby shows up. Why? She wonders, confused. What will she ultimately choose? Her burdened past or a future of freedom.



We got an exclusive sneak peak of the show as well, which was quite awesome with actor Abhay Deol making an impressive appearance on the big screen as he introduced the characters of the show. ( Some of us were expecting him to show up on the meet, but alas! ). However, good news for his fans is that he'll appear as Sutradhar of the show everyday.

Later, a quick Q&A session followed with Bharat K. Ranga, Chief Creative & Content Officer, ZEEL, joining in as well ( who also gave a brief speech earlier in the event saying that this show will definitely get the people talking about all issues related to life ). The bloggers got a chance to put forth their questions to the participants about the show and their experiences. One question was quite interesting - if they ever tried to cheat on TV. Preeti, the participant, admitted having tried few times, but director Paromita was quick to reject any fake or cheat parts and ensured the show had genuine & candid moments only. This surely makes the show an interesting one to look forward to.

The Meet ended with everyone rushing off to gulp down the Booze and the Yummy Food that awaited courtesy : THE LEELA! And finally everyone ( including me ) headed home with 'Monday, 3rd June, 10PM' imprinted on their minds, when the show will actually air every Monday-Friday on ZeeTV.

Check out some cool promos of Zee Connected Hum Tum :-)

❤❀❤
This post is part of 'Zee Connected #Hum Tum' Contest by ZeeTV in association with Indiblogger.in

---