First of all let me start off by saying WHOAH!!! WHATTA MEET IT WAS! It was all action packed, truely living up to its name of Tata Safari Storme 'Xtreme' Indimeet! One of a kind - I attended so far \m/
Even though I had reached the venue late, by almost 1 hour thanks to the mindless traffic
( yes, even on a supposedly Saturday weekend )
, I certainly didn't miss any of the fun and action. Though, I'd have preferred to be present right from the begining itself
( for the 30 secs of fame blogger introductions )
, nevertheless.
When I entered the venue, along with the usual registration I was asked to sign my 'will' too, considering the bumpy ride
( and the parked ambulance )
that awaited in the evening ahead. And it seemed certain contests were already won by few bloggers
( hint : a gal sat next to me holding her prize of a pink sleeping bag by WildCraft - Oh! How I envied her )
, including a twitter contest winner who won a Coolpix camera, some got swiss knives and cash prizes too
( darn, I missed it - lesson learnt "never be late@meet" )
.
Meanwhile, a fascinating visual demonstration of the Tata Safari Storme was flashing on two giant screens with a TataSafari Marketing Official telling us about its features, specifications, capacity, mileages and other statistics etc. It was interesting to watch the Beast a.k.a the REAL SUV from close quaters, as the promoters ensured that every part of it was clicked, enlarged and fed to our eyes. And also was shown, how the machine's solid tyres traversed different terrains ; be it deep jungles, spiky mountains, rocky uneven roads, deserts etc. Boy! Was I impressed? And how!
But hold on, it wasn't over as we were then told that we'd be experiencing whatever we saw on the screen 'LIVE' too!!! And we simply couldn't wait, with all bloggers having their adrenaline pumped in anticipation already.
Surprising though was the activity we stumbled across first. We all were divided into 5 groups of 20 each and asked to give ourselves a rough/tough name
( ours was Xtreme Riders )
, then go on to pull the Tata SUV that awaited on the grounds
( marked by chalked lines )
by a thick rope tied to its front bumper. Whoever does it in shortest amount of time obviously gets the goodies. So, we all flexed our muscles, ready to show off that we all can pull the SUV weighing over 2 tonnes!! if it ever breaks down :D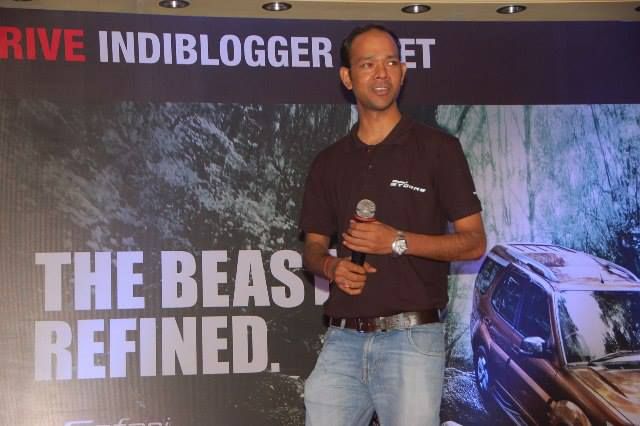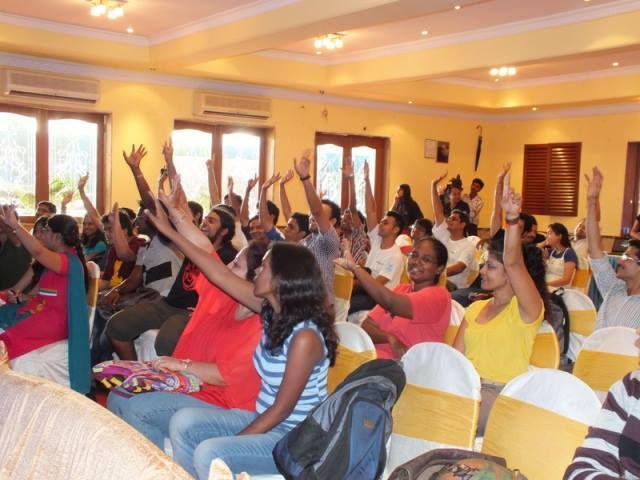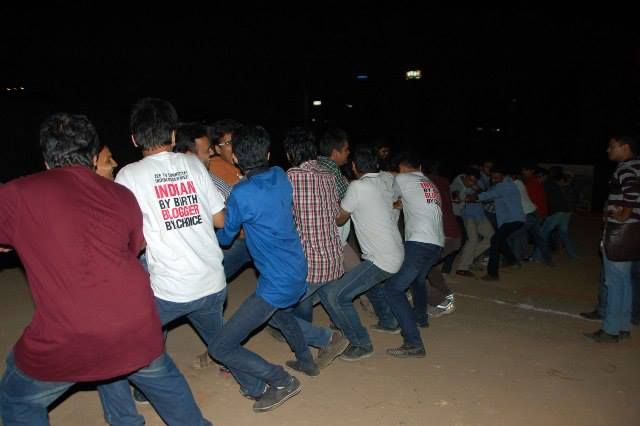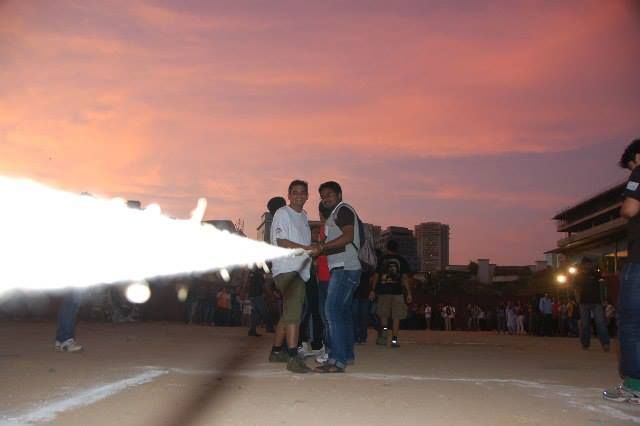 The rope broke, as many times people fell on top of each other, while others laughed away until their own time came to face the same music
( i.e bloody knees, bruised elbows and dusty pant bottoms )
when they pulled the waiting SUV. Luckily, ours was the only group who completed the task without any mishaps, but alas, some other group was declared winner. Nevermind, we thought and moved on.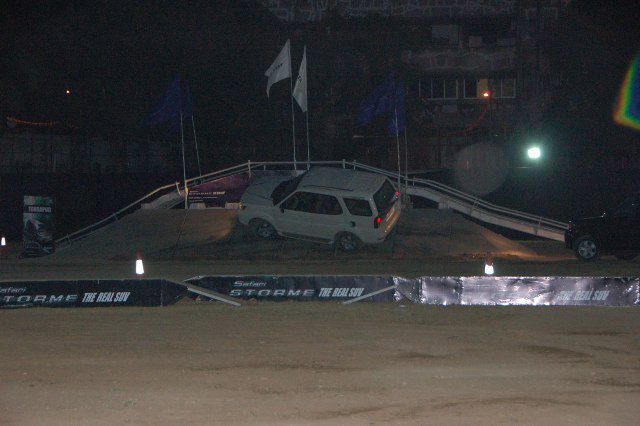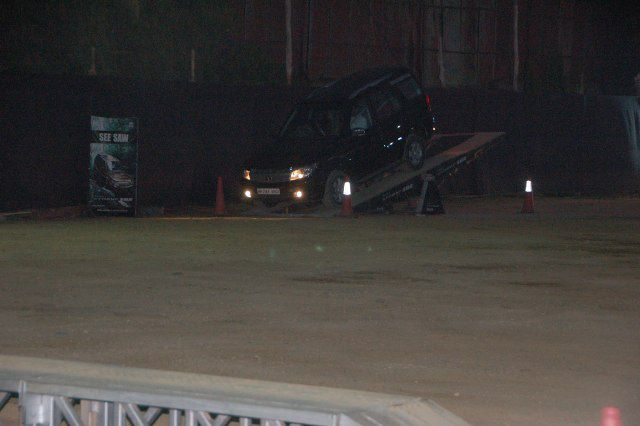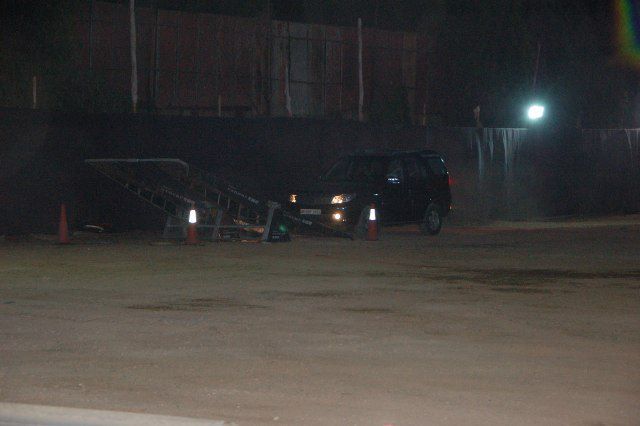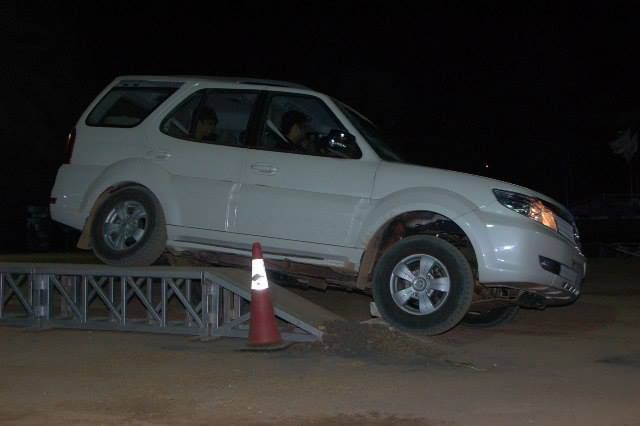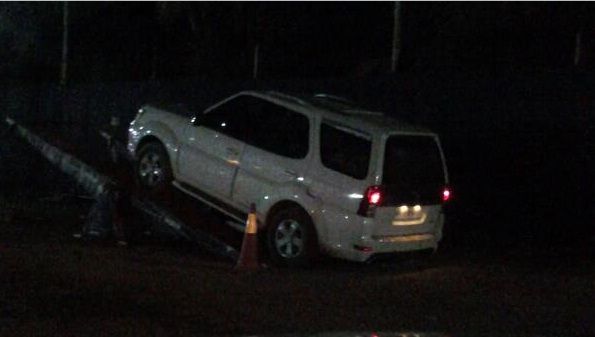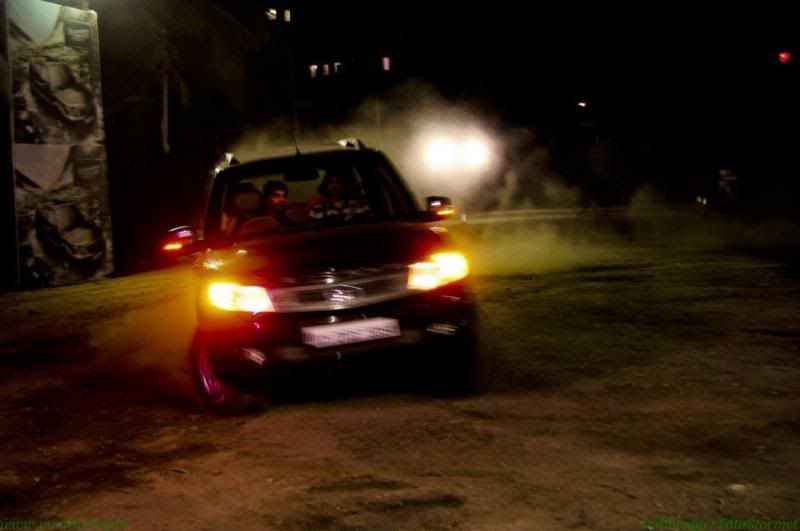 BAT FLIGHT, SEA SAW, DWINDLER, TERRAPOD, BUMBLE BEE, RUMBLER, DRIFT
Next, all got the chance to sit inside the SUV and taste the ride of their lives for themselves, with Tata's trained drivers at the wheels. This activity had two phases and both rocking and stormy as hell
( obstacles course and off-roading track )
. I got to taste the one on the ground itself, where the driver demonstrated, driving the big SUV amidst different obstacles, swiftly. The SUV went steep up the artificially made climb 'Terrapod', the 'Sea-Saw' and also went sideways on a 'Bat Flight Ride' at an incline of 45 degrees, totally standing on two wheels only on the artificial side slope. All of us panicked inside the SUV, with our heart in our mouths until the driver brought the car back to the normal ground level and took several rapid turns, explaining his every move. True to its name, the SUV did kick quite a dust 'storm' also known as 'Drift' on the grounds!
The SUV has a special feature, esp on the 'Terrapod' activity, where it can move up without pressing the accelerator and stop downhill on its own, without use of any breaks or any other controls except the steering. It can climb almost at 80 degrees which is a really 'wow' factor! Other interesting stunts are 'Dwindler', 'Rumblers' and 'Bumble Bee' activities. All these stunt activities were to demonstrate the SUV's power, stability, safety and overall driving experience. I was really amazed and awestruck by it.
Interiors of the SUV is quite spacious and can easily hold 5 passengers ( +2 rear seats ) ( including driver ) with monstrous headlights that can light up the entire road ahead. It is the ultimate go-anywhere vehicle, with a great combination of technology, performance, style and comfort. This one is really the ideal vehicle for real Xtreme adventure for today's generation of motorists.

There was a Xtreme photography twitter contest with prize being a cool SLR Digital camera, and that got bloggers taking some extreme shots of the vehicles, of themselves and what not. While some jumped in mid-air, some sat or laid atop the Storme itself for a click.

All these mindblowing actions left everyone hungry and we jumped next right on to the food, which was a tasty vegetarian spread with some really cool deserts. The Xtreme Indimeet was an evening well spent with lasting memories for sure.



❤❀❤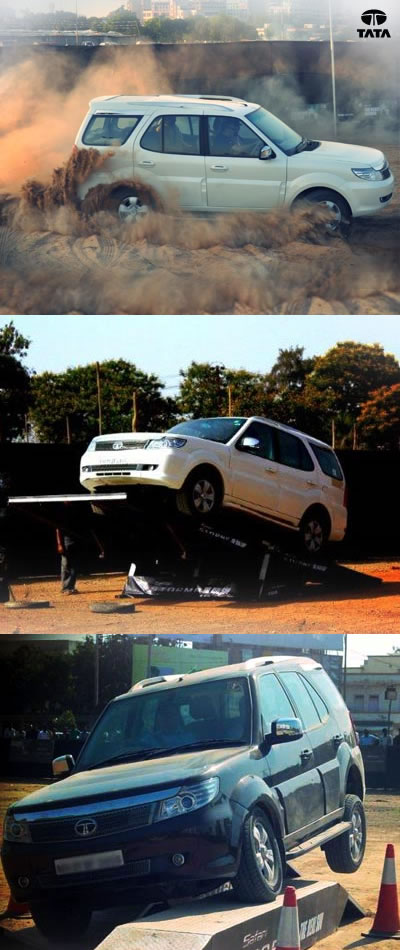 The new Tata Safari Storme is a refined beast ( fully designed & built in India ). Its very fast and delivers at an incredible performance of 0 – 100 km/hr in less than 15 seconds. It is powered by a 2.2 L VariCOR engine, turbocharged with VTT ( Variable Turbine Technology ), with 140 PS Power & 320 NM Torque capacity delivery, which provides an easy driveability, swift response and lower NVH ( i.e Noise, Vibration and Harshness ). The vehicle also features the ESOF ( electronic shift-on-fly ) technology, enabling engagement of the 4×4 ( enabling climb or descend without using any controls except the steering ) or 4x2 mode, on the move. It is highly fuel efficient at 14kmpl in the 4×2 and 13.2kmpl in the 4×4. Its suspension is so cool n strong that it can hang in an 45 degree incline easily. This REAL SUV is available in six 'stormy' colours ( Urban Bronze, Pearl White, Sardinia Red, Pearl Champagne, Astern Black and Arctic Silver ), with its starting price at Rs 10.24 lakhs ( ex-showroom Mumbai ).





---