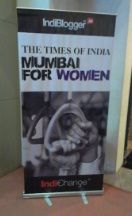 When I walked into the impressive Victorian architectural Times of India
( 175+ yrs old heritage )
building, I was not walking into any random building, rather I was walking into history. Ever since the British built it, it has seen history unfold as well as been an integral part in shaping Bombay.
This
#MumbaiForWomen
Bloggers Meet was also history being made
( perhaps in a little way )
. With the influence and reach that Times of India has, spreading across the city as well as beyond, it can truely be a driving factor in the much needed change required for an overall change of attitude towards the women in the city.
This is my 20th year in this amazing city and definitely I have witnessed a change ( in the city as well as in people's behaviour too ). I have also seen that what was once regarded as 'safe' for women, the city once in a while
of late
has shown its embarrassing ugly picture too ( be it the juhu 'new years' molestation case or the much recent riots that happened in the backyard of TOI building itself, with several of the women constables being manhandled by miscreants ). Hence, we need to question 'is safer still safe'?
Personally, I have also been subject to incidents of stalking, unwanted groping, brushing against or touched in crowded places like trains/roads/markets etc upon which I couldnot report because of lack of proper laws to punish the guilty. How do we punish an eve-teaser at all? Isn't it better a strong message reaches the menfolk to respect women? That all these unwanted advances is simply
UNWANTED
!!
However, occurance of these incidents may be less compared to cities like Delhi, but happens all the same - very often unreported.
Another is the attitude towards single, independent women living alone in the city. I had been given full freedom to live life on my own terms by my own family, but these people esp those narrow-minded, neighbourhood aunties
( yes women themselves )
demoralizes with constant venom spewed, character assassinating gossips just because some women have not chosen a man yet to order them around, which I find very disturbing.
Hence, we need a change! And Indichange is a step towards it. And the bloggers meet - a mini milestone in this long journey. But this journey is incomplete without the support of men. Only their understanding and respect for women will make it a success. Here comes TOI, who can reach these men
at all levels of the society
in spreading this strong message via its powerful medium.
This was my 2nd IndiMeet and I was eager to be part of it, as I am concerned about these issues and want a better solution for women's issues. Interestingly, the meet had more men than women :-)
After the registration, we had some light moments with BlogwatiG
( a blogger )
, who took the mike and introduced us to some quick interactive exercises that ensured that we got on our feet and went around hunting bloggers of pre-mentioned categories
( in a chit given to us )
and taking their signatures. This would judge a blogger's friendly and athletic quotient with some prizes of course to motivate too ( a feature in cover page of the day of birth in TOI, mugs and books ). I got 8/11, not bad! Maximum tweeter, three ladies who walked to the venue with high heels, a tweeter who tweeted something emotional about his sister, first and last registrant, and a blogger who came to the dias to tell her story - all got memorable goodies which added to the fun.
Kannan representing TOI also explained the agenda of the meet briefly.
Next came the serious part with two ladies
( their twitter handles @IdeaSmithy and @TheWordJockey )
, kickstarting the event by giving us a simple exercise to do i.e define yourself as a woman. Obviously we jotted down quickly few of our many characteristics. Then it was narrowed down and we were asked only to pick one of those. And also mention another which we wanted to be, but couldnot accomplish due to various obstructions or hindrances. It was a touching moment to see many of the bloggers opening up and telling stories of how they aspired to be published author, journalist, complete mba etc but had to sacrifice their dreams and choose other options.
We came to realise an important point here, by this session, that very often we 'women' make adjustments just for other's sake and not for ourselves. Are we really free from the
'because you are a girl'
obligations? Hence, even if we call ourselves independent or empowered, many times we are not really so. We are restricted either by our family, society or even our own fears growing up in a patriarchal environment.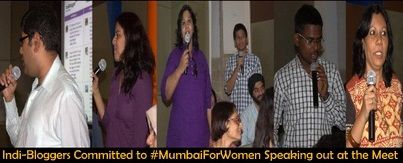 This point was further analysed when couple of TOI team of women editors ( Namita Devidayal
( personal finance )
, Natasha
( crime )
, Malti
( health )
, Namrata
( business )
, Hemali
( education )
at the helm of the
#mumbaiforwomen
made an entry and discussed the issues in detail.
First - Personal Finance. How much control does a woman have in her own earnings, personal spending & investment. Does she keep track of her spendings and how much actually goes away in household expenditures inspite of having a working husband too. 85% of women said they don't have the same freedom as men to marry by choice including those working women who are supposedly 'independent'!

Second - Crime against women - be it outside or within their homes. Many cases of molestation, rape, domestic violence etc goes unreported. Very often the violence is done by their own close ones. Rape desensitization - unless there is an 'iron rod' involved people don't seem to pay much attention to this heinous crime.
Even this #MumbaiForWomen is because of that rod! Corny right? Does women get unwanted attention while travelling that also turns physical. 63% women say they carry weapons while travelling alone.
However, there is a positive in all its midst, showing a glimmer of hope, with the helpline number #9833331111 that can be used ( for security issues, lost&found ) while travelling in the locals ( all ). It works and people should use it and inform others of this service as well.


Third - Health is a major concern for women. The bigger issues women in Bombay face are health related than crime related. When was the last time we actually checked our BP or counted our calories intake. Lack of clean public toilets for women. Women not only suffer physical diseases but also innumerable mental pains such as stress, depression etc. These are more harmful. A person who is closed to 'enjoying life or simply having fun' might infact be facing a depression syndrome! The MSD stress factor in a woman's life - Mother, Sister & Daughter. As someone said - A woman mentally dies with depression when caged!


Fouth - Business Entrepreneurs or women in the corporate world and the issues they face. Language sensitivity in employee conduct. A much needed affirmative action by companies for gender balance. Even men opting for 'flexi-work hours' offered by their company which are actually meant for women. Why women reaching top levels are gossiped about having unnatural favours from their bosses? Or even questioning women, why they need to work and draw big salaries, when they are living comfortably with their parents/spouse. Why a single working woman is often said that she can work extra time as she doesn't have to go home and tend to kids.

Fifth - Education related issues women face. Education is supposed to change mindset. Education sensitizes, creates awareness & sometimes simply reminds us of our rights. GATE exam is made free, B schools - More marks for women. So policy wise there is a change, but still more needs to be done! Though they scored high marks in their SSC/HSC exams, women doing Masters or Phds is seen far lesser in India. Do girls have to give up studies because of society pressures? One blogger said how she was prohibited from following her dream vocation of journalism and instead forced to pursue the more accepted and high earning engineering course.
Someone said "I would never be allowed." Isn't that a basic right violation for an adult?

The event signed off with a Video Show that highlighted many of these above concerns.
( TOI is also organising a job fair for women who want to get back to work after marriage or baby break. Poddar college, 6-7 April. )



Its nice to see TOI's #MumbaiforWomen initiative, because I truely believe media can really play a big role in influencing people's minds and hearts, and changing their opinions and behavior. And if done in a positive way such as this, it will truely bear fruits. And by humbly associating my blog towards this cause, I hope to do my bit as well in raising awareness.
Alas, unlike last meet I didn't win any prizes but the experience was unforgettable and priceless!

This post is part of 'TOI #MumbaiForWomen for IndiChange' by Times of India in association with Indiblogger.in

---