Statutory Warning :
Beware Haiku Lovers, reading the verse below might result in an instant heart attack! :-))
:: My Haiku Protest ::

People's blogs are resembling more like zoos and botanical gardens
To make sense of 'em, my brains have got scrambled!

I rush to see, if they've written something new and great
But, instead thrown at my face, is a nasty haiku grenade!

A haiku for fossils, seeds, weeds, grass, petals, tree, twigs, roots and branches
A haiku for this, haiku for that, nothing spared to chances!

Use three sentences, and throw in a big unpronounceable word
You are declared a literary genuis, with the crowd cheering loud!

Why do they praise so mindless, I thought, I thought
Seems cos' the backlinks to their blogs they got!

I've had enough of these little 3 lines menace
So, heres me lodging my haiku protest :|
Since I'm done protesting, heres some haiku from my side to chew your head. You deserve it, cos I got my head chewed reading your haikus :D :P :O
:: My Haiku Revenge ::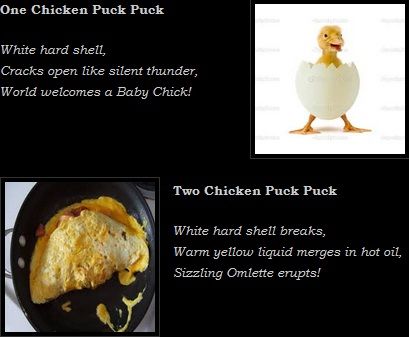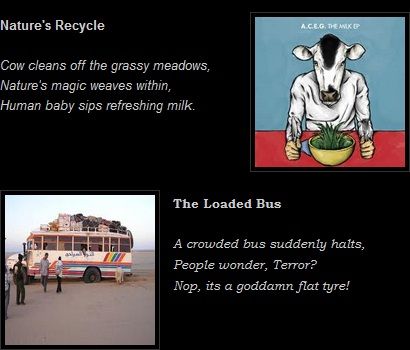 PSssst : If you've survived this post so far, then what are you waiting for? Go home and write a haiku! :-) After all..
When your mind is blank, you cant think of anything new,
Only one thing comes to your rescue, and that's a haiku!
---