Ok...ok the post title shouldnot shock you. Honestly speaking,actually I was really confused and blank
( read - timed out )
as to what title I should give to this particular post.
I have seen 3 out of 6 Bigg Boss seasons and none had me freaked out as much as Bigg Boss Season 6 Alag Che did.
I mean...just uptil few weeks ago,everything was fine and I was just casually watching the big boss inmates do their usual mundane cooking, cleaning and other household chores and quite frankly before the 45 minutes of telecast were up I would nearly fall asleep.
I'll tell you why - Cricketeer Navjot Singh Siddhu's philosophies and advices were downright boring. Weird Sapna Bhavnani or her hair colours didnt interest at all, Rajev Paul's wooing of his ex-wife Delnaaz Irani first or his flirty romance with chirpy mirror-obsessed Sana Khan
( half his age )
later bored me no end. Gulabi Gang's Sampat Pal Deviji less said the better. The rest hardly worth a notice. Aashka Goradia's constant crying annoyed the hell out of me and I was quite glad that the audience had voted her out at last. Enough of that silly rona dhona and bina baat ka batanga.
Until of course she shifted to the Bigg Boss padosi mud house and Imam Siddique stepped in
( a wild card entry )
and all hell broke loose. He scared the wits out of her. I was jerked out of my sleepy state as well by Imam's antics, the ruckus that he created and I'm sure rest of the world would agree too. He woke us all up, literally.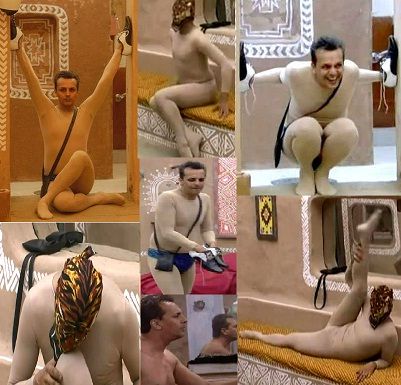 See more of his pics - Here!
Watching Imam is like...you go --- WTF was that!
The make up, the colourful clothes, the wigs, the props, the english, the attitude, the tandavs, the striptease...ooofff and not to mention the ever famous touching the cheek femininely with his finger and saying 'Time out' which even The Salman Khan wasnt spared off. Other famous words of his like 'Chalo bolo London', 'Chal be', 'Kundalini jagrit karna' would be the newest trendsetters said in the typical Imam Siddiqui eshtyle.
What a man yaar....or woman...or whatever he/she is. He surely can make your eyes pop out wide open. He was all over the house scaring and freaking out the inmates,and maybe the audience too. I'm sure the viewers
( including the ones who voted massively for Imam )
too would be scared at the very idea or thought of being anywhere alone with Imam Siddiqui let alone locked in a house for weeks.
I think only 3 housemates ( Sapna Bhavnani, Urvashi Dholakia and Santosh Shukla ) managed to intimidate him a bit, rest were all pussies. Rajev's fight with him was too hilarious ( especially the Maindak wala palti ). But I simply loved Urvashi's imitation of him doing the same 'time out' back to him.It was quite funny.
Though you know he is quite nasty and mean intentionally, you cant help but be curious as to what he'll come up with next.Maybe thats why he got so many votes and became the runners up of the show.
Love him, Hate him...but you surely cannot ignore him.....he wont let you, lol. He'll come right after you out of that idiot box ( aka TV ) hold you by your eye-balls and grab your attention.
Atleast,thats what he managed to do big time i.e grabbed attention of the whole world.
He may say that he was playing the game and want us to believe that it was all an act....but I strongly suspect that he is exactly the same in real life too. He is just too intriguing. A unique piece. I never enjoyed watching a character more than Imam's and we only like to see the unusual don't we. Its human nature.
However I'm glad he didnt win, else I'd been wondering where the hell did India's sensibilities go. Where are we headed.
Maybe I'm being hypocritical here a bit ...by enjoying Imam's show thoroughly yet not wanting him to win. Maybe because somewhere I still regard him as a villian and villians donot win at the end,right?
But he rightly said he did win million hearts ( or scared? )
Exclusive Imam Siddique Interview below :
Having said that I must say Imam is a phenomenon we'll not forget for quite some time to come.He was really the one who made Bigg Boss 'Alag Chee' - Truely Paisa Wasool :-)
---